Jessie had a wonderful first day of kindergarten. She started out the day with tremendous enthusiasm and came home even more excited. She emerged from her classroom announcing that she loved it and told everyone she spoke with how school is awesome!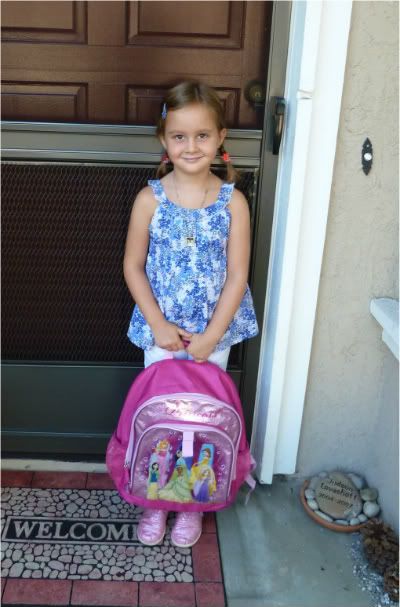 Ready for a new adventure.

It's a BIG day for the whole family!

Our dear friends and neighbors (see lost wallet story) have adopted Jess into their family and it melted my heart to see them walk to school together hand-in-hand.

Jess already loves her teacher!

A little lunchbox message made with Schoolhouse cookies.

Jessie didn't end up in the same class with any of her friends, but she spent the break eating with her buddy, Gage.

Jessie has known Emma all her life. They are both kindergarteners at the same school and will see each other every day.
Last night as we were putting Jessie to bed, she said, "You know that picture of me with my teacher? Can we make a card with that picture? I want it to say that I am excited about kindergarten and I want to draw something for her."
Alas, Jess woke this morning infused with more enthusiasm and meticulously made this precious card for her teacher.

Front of Card