JUDSON'S EYES
Documentary (12 Minutes): God's story of redemption surprisingly revealed through a little boy.
Director: Peter Yunho Chung
Produced By: pathos|creative
Music: PawnShop kings
Photography: Jenny McMasters
Price: $4.95
---
ABOUT THE DIRECTOR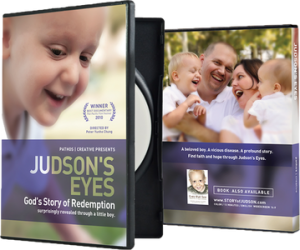 Peter Yunho Chung is an award-winning documentary filmmaker whose films focus on faith, justice, and compassion. In a few short years, his films have garnered the attention and accolades of iOpen Film Festival (winner: Grand Prix), Monaco Charity Film Festival (winner: Grand Prix), Pan Pacific Film Festival, Talent1Media, and more.
Peter has also worked as an award-nominated film editor for many years in Los Angeles.
---
Read "Eyes that See" Get to know Judson Learn About Krabbe Disease