GRAVESIDE SERVICE
Out of the depths I cry to you, O LORD; O Lord, hear my voice. Let your ears be attentive to my cry for mercy. I wait for the LORD, my soul waits, and in his word I put my hope. My soul waits for the Lord more than watchmen wait for the morning. Trust in Him at all times, O people; pour out your heart before him; God is a refuge for us. (Psalm 130/Psalm 62)
---

November 13, 2007




Fairhaven Memorial Park




Edgewood Garden, Plot 7G




Santa Ana, CA




Pastor Dave Gundlach
Father, may you be our refuge today as we celebrate little Jud and entrust him to you.
This morning I want to focus our remembrance on two people: Judson and Jesus. Two people who have brought hope and joy into our lives. Two people whose birthdays we celebrate on almost the same day: Dec 24 & Dec 25. One whose name means "the Lord saves," and the other whose name means "worthy of praise."
The kingdom of heaven is like a mustard seed, which a man took and planted in his field. Though it is the smallest of all your seeds, yet when it grows, it is the largest of garden plants and becomes a tree, so that the birds of the air come and perch in its branches. -Matthew 13:31-32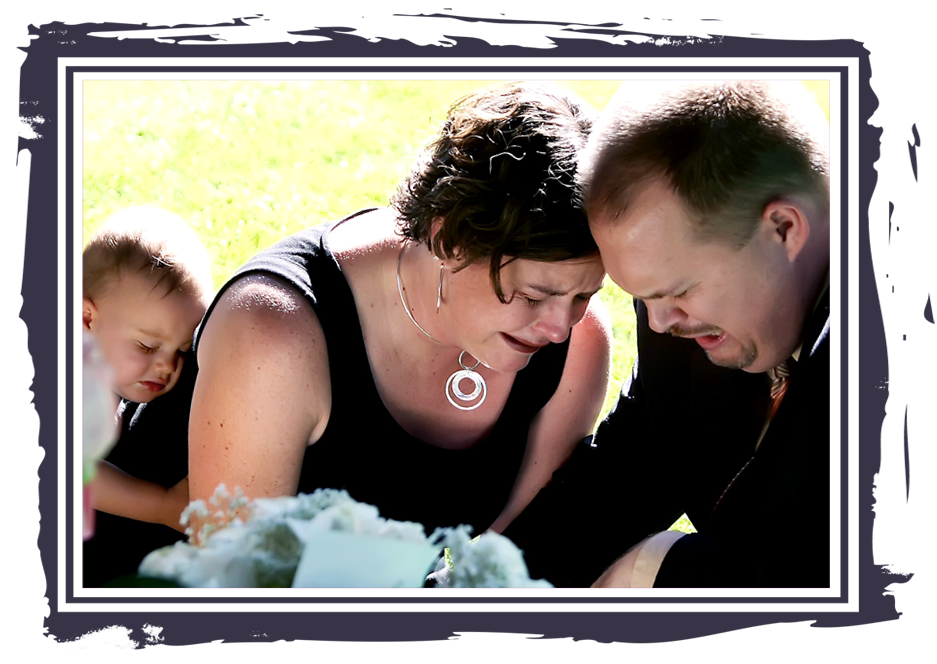 A mustard seed is a very strange thing; it ends up producing the largest tree. You'd expect: big seed, big tree; small seed, small tree. Jesus is saying: the kingdom is not what you'd expect, it's surprising. God uses the smallest, most insignificant realities to bring about His purposes.
I've thought of this verse mainly with respect to Judson. Jud, just a little seed of a person. No power according to the world, no status according to this world, no influence according to this world. Just a little, insignificant seed, and a parents' prayer that he'd be a blessing. And God has taken the smallest seed and grown it into the largest of trees, so that all sorts of people come and perch in its branches. God's kingdom is coming through the life of your little boy.
I think of another agricultural analogy Jesus made: "Truly, truly, I say to you, unless a grain of wheat falls into the earth and dies, it remains alone; but if it dies, it bears much fruit." I think of how true that was in Jesus' life: that his death brought so much fruit in our lives. I think of how Judson has followed in the footsteps of his Savior: like a little grain of wheat whose death is bringing about amazing fruit in our lives and in the community.
I've also thought about that mustard seed with respect to you, Drake and Christina. I want to remind you that God's kingdom is surprising, it's upside down. That's important to remember as your world has been turned completely upside down. I'm thinking especially of Jesus' introduction to his sermon about the kingdom: "Blessed are the poor in spirit, for theirs is the kingdom of heaven. Blessed are those who mourn, for they shall be comforted." Somehow in God's strange kingdom, the state you're in right now, somehow it's blessed. The kingdom is for people like you. You will be comforted.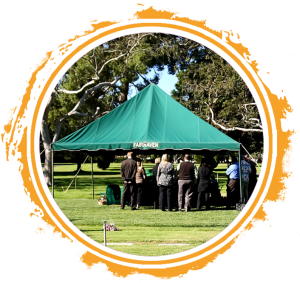 You have a lot to mourn. But you have mourned so well. I love how you put it on the website: "We feel like we have been called to walk this seemingly contradictory path of completely releasing our son into the arms of the Giver of Life who loves Jud far more deeply than we can imagine, while standing strong in faith for our Father's deliverance by supernaturally healing Jud here on earth."
You've walked that path so well. It's so clear, the prayer of your hearts and lives is "your kingdom come, your will be done."
I want to spend the rest of our time celebrating Judson and Jesus, celebrating their relationship together. We know that Judson loved Jesus and we can only imagine how much Jesus loves Judson.
We remember the stories of Jesus and children (Mark 10:13-16): "People were bringing little children to Jesus to have him touch them, but the disciples rebuked them. When Jesus saw this, he was indignant. He said to them, 'Let the little children come to me, and do not hinder them, for the kingdom of God belongs to such as these. I tell you the truth, anyone who will not receive the kingdom of God like a little child will never enter it.' And he took the children in his arms, put his hands on them and blessed them."
I believe that if Jesus were to speak audibly to us, he'd remind us of the promises he made in Scripture and remind us of how they are being fulfilled in Jud's life.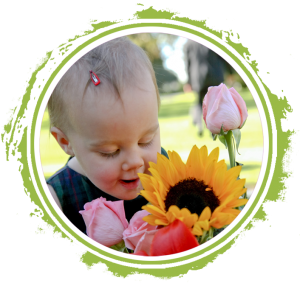 "I am the good shepherd. I know my own and my own know me, just as the Father knows me and I know the Father; and I lay down my life for the sheep. The thief comes only to steal and kill and destroy. I came that they may have life and have it abundantly."
"I am the resurrection and the life. Whoever believes in me, though he die, yet shall he live, and everyone who believes in me shall never die."
"I am the way, the truth, and the life. No one comes to the Father except through me."
"In my father's house are many rooms. And if I go and prepare a place for you, I will come again and take you to myself, that where I am you may be also."
And I believe that if Judson were to speak audibly to us now, he'd remind us that the curtain between this life and the next is not as thick as we think. That the goal of both is the same: Jesus.
It's amazing to think of Judson as being in the presence of the Lord, not just Jesus the earthly carpenter, but Jesus, the Alpha and Omega, the risen and exalted Lord of the universe.
Father, we thank you for the extravagant gift that Judson has been to our lives. We thank you for the gift of your son, Jesus Christ our Savior. And we entrust Jud into your loving arms and we pray that you would be glorified in his death just as you have been glorified in his life. We pray that you would comfort Drake and Christina and everyone who is mourning in the weeks, months, and years to come. We pray that you would be glorified in our lives. Your kingdom come, your will be done. In Jesus' name, Amen.