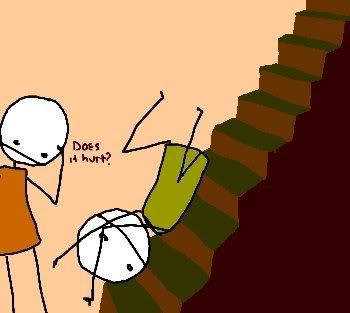 God, give grace! Get me up on my feet…You know me inside and out, you hold me together, you never fail to stand me tall in your presence so I can look you in the eye.
Psalm 41:10-12 The Message
I have felt like a train wreck the last couple days: in the dumps emotionally, under the weather physically, isolated socially, and dry spiritually. Life has felt so painful and unmanageable, as if I just keep getting knocked down each time I try to stand; I cannot seem to stay on my feet for any stretch of time.
Life is hard. I feel it acutely every day while trying to function in a world where most people don't seem to understand my on-going heartache. And I have admittedly been desperate for people to understand the depths of my loss, to peek into my world, and to "get it" (probably part of what motivates me to blog through this experience). For some reason it seems to hurt me so much when others appear callous or ignorant to my sorrow. Yet how can I expect them to understand an experience that is not theirs?!!?
It is apparent that even amongst mother's who have also lost a child, there are similarities to our experience, but each of us has such a different story, diverse ways of dealing with our heartache, varying needs, and each woman is distinct in her capacity to move forward. Just as each person in this world is so different, each journey of grief is especially unique.
I came to the realization this morning that I need to stop hoping and expecting others to meet my need for understanding (though I sure appreciate when friends try). Instead, I must press more deeply into relationship with the God who loves, knows, and completely understands me, my journey, and my pain. He sees all that is going on inside my soul and outside of me, he is holding me together through each painful breath, and he will ultimately be the only one who can help me get up on my feet. I need to stop looking to others to meet a need that only God can fill.
So Father, I ask, please extend to me your grace that I may stand tall in your presence! It is a long journey, but I want to find myself in you.