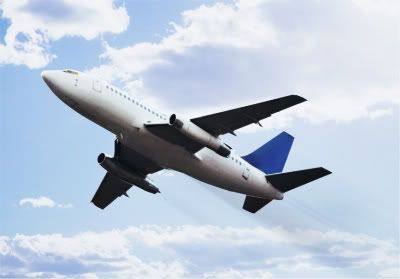 I had the last-minute opportunity to take some friends to the airport on Saturday. I didn't think much of it until we pulled up curbside to the Long Beach Airport and I was suddenly flooded with memories of the one experience I have had at that small terminal.
When Judson was five months old we took our first flight with him to visit our dear friends, the Baesels, in Texas for an opportunity to meet his soon-to-be buddy Keira Grace who was just a couple months younger.
I began to recall the red long-sleeve shirt and knit airplane/travel pants I had specifically dressed him in for the occasion and our crazy efforts to feed him his baby cereal before boarding the plane (we had just started him on solid foods a couple days prior and as first-time parents every transition was a big ordeal).
It was a new experience to board the aircraft with a ton of baby gear along with anxiety over not knowing how it would be to travel with an infant. Once we were in flight, Drake and I took turns holding our baby boy and being vigilant about making sure he was sucking his pacifier to protect his little ears in the altitude. We also had high hopes that he would snooze most of the flight.
Upon arrival at our destination, it is etched in my mind the pride that welled within me as person after person commented on how wonderfully our Juddy traveled and what a delightful little baby he proved to be. Judson had nodded off a couple times but most of the flight he was simply filled with smiles and laughter for the people around him; he didn't cry once. As we disembarked from the plane I vividly remember looking forward to taking our boy on future flights as he grew older and could appreciate that he was "way up high in the sky" (a phrase Jud later used in reference to airplanes).
We never had the chance. Our flights that trip proved to be Judson's only airplane adventures.
As I drove away from the Long Beach Airport this weekend, alone in the car, I allowed this untapped memory to run its course, triggering many tears, but I also considered Jud's current life of glory…all my earthly hopes for my precious boy are trivial in relation to his current experiences—he actually lives "way up high in the sky" now.
What joy awaits me there too!