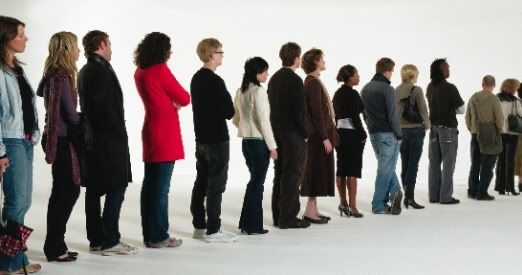 So much of life entails waiting. Waiting in traffic. Waiting for food at a restaurant. Waiting in line at an amusement park. Waiting to use a public restroom (okay, men may not have this problem). Waiting for ordered items to arrive in the mail. Waiting for a friend at a coffee shop. Waiting to earn the money to buy a special item. So much of life entails waiting.
Yet, strangely we live in a "now" culture of instant gratification. We have credit cards, microwaves, Tivo, fastpass, instant messages, and the like. We have become accustomed to immediacy. If a desire or experience is met with delay we may forgo it entirely, choosing an alternative that does not require waiting.
Of course, there is nothing inherently wrong with many of the advances that have enabled us to engage life with instantaneousness, but this mentality may be threatening our souls by spilling over into our journey of becoming, our process of growth. Are we inclined to supplant the necessary learning that occurs through the waiting?
It is in the waiting where character is developed. It is in the waiting where we recognize we are not self-sufficient. It is in the waiting that God can do a deep work in our hearts.
Having just finished a year-long study in Genesis, something that stood out to me throughout the book is how much waiting was involved for the people of God—waiting for the Lord to move, intervene, or fulfill his promises. According to our human time frames, rarely did God act quickly. It seems waiting was an essential part of his plan, divinely used to shape his people.
It is estimated that Noah waited over a 100 years from the time God told him to build the ark until the floods rose. Abraham and Sarah waited 25 years before conceiving their promised son, Isaac. Joseph waited 22 years in faithfulness for God to fulfill his plans for Israel through him. And there are numerous other circumstances in Genesis (and throughout Scripture) where the Lord worked through the waiting.
Sometimes God's people tried to circumvent the process of waiting by executing their own plan apart from him. Other times they waited faithfully in the pit of difficult circumstances for God's intervention. Either way, it is clear to me that God was at work in the waiting.
Truth be told, I don't like waiting. I am a product of our "now" culture. Patience is a virtue that easily eludes me and I have discovered that waiting often hurts. I struggle to wait.
For quite awhile Drake and I have been waiting on God for certain circumstances in our life to change…they still have yet to change. This long season of waiting has entailed a lot of pain (coupled with our brokenness over Judson) and I have been wrestling with God over feelings of abandonment, wondering if he hears our cries, wondering if he cares that we are struggling.
I imagine Joseph may have felt similarly when he was in the pit, when he was in jail, and when he was forgotten by people. But he waited. He waited faithfully for 22 years, serving the Lord despite his circumstances! Joseph waited well.
I have not learned the art of waiting well. Instead, I desperately long for our circumstances to change so as to eliminate anymore waiting and the struggle that comes with it. Yet, God is calling us to be faithful in the waiting, to trust and rely on him in the waiting, to find our sufficiency in him alone. Rather than try to circumvent the waiting, I need to submit to the work God wants to do in my heart through it—however long it may be.
The blessedness of waiting is lost on those who cannot wait, and the fulfillment of promise is never theirs. They want quick answers to the deepest questions of life and miss the value of those times of anxious waiting, seeking with patient uncertainties until the answers come. They lose the moment when the answers are revealed in dazzling clarity. —Dietrich Bonhoeffer