Dear Judson…
We just celebrated Thanksgiving. And of course, your dad, sister, and you top my list for that which I'm thankful for most. Yet it is very interesting to be so incredibly thankful for you and yet have such sorrow and pain associated with my gratitude. It is like nothing I have ever felt before or probably ever will.
I only had two beautiful Thanksgivings with you.
I vividly recall both of them. We were at Grammy and Papa's house both years and your cousins were there too. The first Thanksgiving you were 11 months old; you were my pride and joy as you cruised around the furniture and tried to keep up with your cousins who were constantly smothering you with love. I remember that your dad and I had a difficult time getting you to try some of the festive food—you would inspect each bite and if it wasn't familiar you would reject it. However, we were confident, if you'd just take a taste, you'd like what we were offering. Finally, after lots of coercing, you tasted each item, and sure enough you became a fan.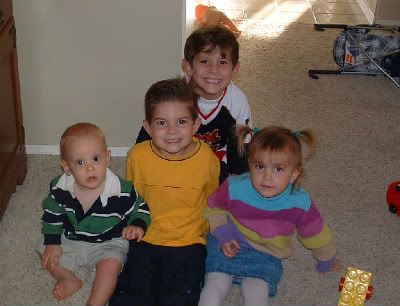 The second Thanksgiving, when you were almost two, was so exciting! You were already talking so much and had a great time conversing and playing with your cousins, particularly Carson and Avery Joy. You loved being part of the gang and continued to enjoy the attention they gave you. I remember how you also wanted to include your new sister. Furthermore, I recall sitting around the dinner table and your cousins started banging on the oak dinette saying, "We want pumpkin pie!" – You joined right in with them, laughing and laughing because you thought it was so funny. We continued to hear that phrase from you for a couple months. You also loved the "bullet" from the whip cream dispenser that Aunt Amy gave you, taking it with you everywhere for about a month. You had lots of laughter and smiles that day.
What joy these memories hold!
But now I've had two Thanksgivings without you. What pain these memories hold!
Last Thanksgiving was a blur. I was still in shock and could not comprehend the reality that you were gone from this life forever. I practically expected you to come bounding down the stairs in the Lake Arrowhead cabin that morning, anxious to play with Ella and Jessie. But you didn't. And I won't ever have that delight again.
This year we spent Thanksgiving with your daddy's family. Your Aunt Danielle made Lightening McQueen placemats as a way to "include" you and honor your memory. It was so sweet! But I could hardly function without you. I had such difficulty celebrating the occasion when all I wanted to do was cry because of your absence. Ella expressed how much she misses and loves you! I can only imagine how your relationship with her might have grown. Unfortunately, I also began to realize that for some people, even those who loved you, it is easier for them to forget. This breaks my heart!
I will never deny you Judson. I will never, ever try to forget you! You are a huge part of me. You continue to be my pride and joy. You are at the pinnacle of my Thanksgiving because you and your sister are the greatest gifts I have ever been given. Your death will NEVER change that!
On this Thanksgiving, more than anything, I thank God that our separation is not permanent. I wait with great expectation to see you again! In the meantime, I will continue to learn what it means to live without you while still honoring you, and I will cherish those two beautiful Thanksgivings forever!
I love you so much! I miss you more than I can express!
See you soon, though not soon enough,
Mommy