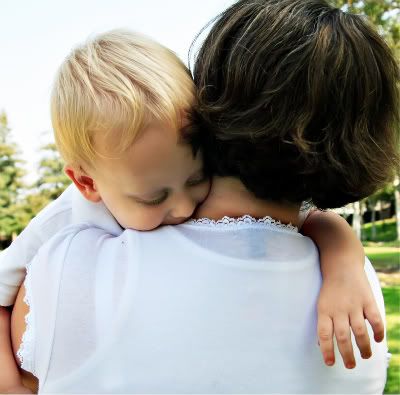 My Dear Jud Bud…
We have now reached three years of living in the wake of your death and yet you were unable to even reach three years of life; this notion is unbearable—yet I live in it daily.
As people turn their clocks back an hour today, marking the end of daylight savings time, I find myself dreaming of turning my clock back four years, to the days when you were healthy and whole, the days when my love for you was expressed tangibly and not abstractly, the days when our family was not fractured by death.
And I am not the only one yearning to turn back time…Jessie has been expressing similar longings. Two nights ago, as daddy was snuggling with her in bed I heard her declare, "I wish I could be a baby again." When your daddy inquired further she stated, gripped with emotion, "I wanna be a baby again because then Juddy would still be here. I wish he didn't have Krabbe disease because I want him to be here. I know he is in heaven but I want to play with him. I would be able to play with him every day. He loved me and took care of me and played with me. I want to be able to jump on him again. How happy those times were! "
Yes, Juddy, how happy those times were! I miss the days when life was not lived under the shadow of brokenness over losing you. I miss you!!!
I have an insatiable, un-waning thirst for you. I try to drink you in through your pictures and videos, but it is like parched lips hoping to be satisfied by photos of water—when only real liquid can hydrate. All the beautiful images I have of you often seem to intensify my ache, rather than satisfy; this thirst can only be fulfilled when I actually have you in my arms again.
And so in the same breath that I dream of turning back time, I also dream of catapulting forward in time—to the moment I will hold you again, to the day when all my thirsts will finally be satisfied, to the time when my broken heart will be restored, and when all my hopes of living life with you will be realized as I join you in the glorious light of our Lord whose sacrifice makes our love eternal.
However, for now, I must live in the present, unable to go backward or forward, bound by time, and living in the ambiguity created by the veil between us. You are no longer who you were and yet I know not who you are now, but all the while my love sustains. And just as my love is undying, Judson, the gift of your love and life continues to multiply. Thank you for just being you—the little boy whose heart was uniquely tied to the eternal, sweetly reshaping my life.
You know how much I hurt without you, but I also rejoice because of you. And I call upon God for the strength to surrender my broken heart and allow his Living Water, that delivered you from death to life, to come and flow over me, giving me the fortitude to live wholly until we are together again.
I love you so much, Judson, and I miss you with every breath.
Longingly,
Mommy
Posted also today: Levasheff Update, "Three Years Without Jud" and Drake's letter to Jud, "A Short, Sweet Song"