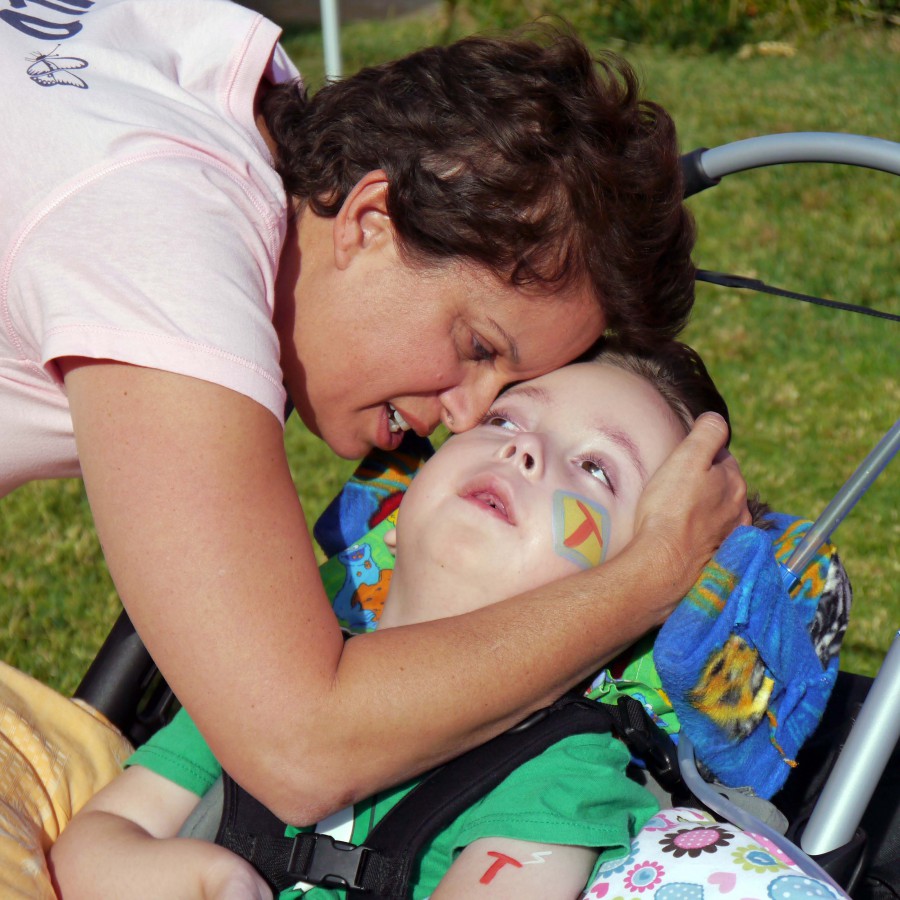 Nicole Aldrian, a beloved woman who inspired, loved, and served many (I wrote about her last week), died yesterday, May 12, 2014, from cancer. I am absolutely devastated, as are so many!
The day we met Steve and Nicole Aldrian in 2009, they were pulling baby Trevor around in a little red wagon after he had been newly diagnosed with Krabbe disease. Interestingly, in a conversation with Steve last November, he retrospectively chuckled, "We've sure come a long way since that day, haven't we, Christina?"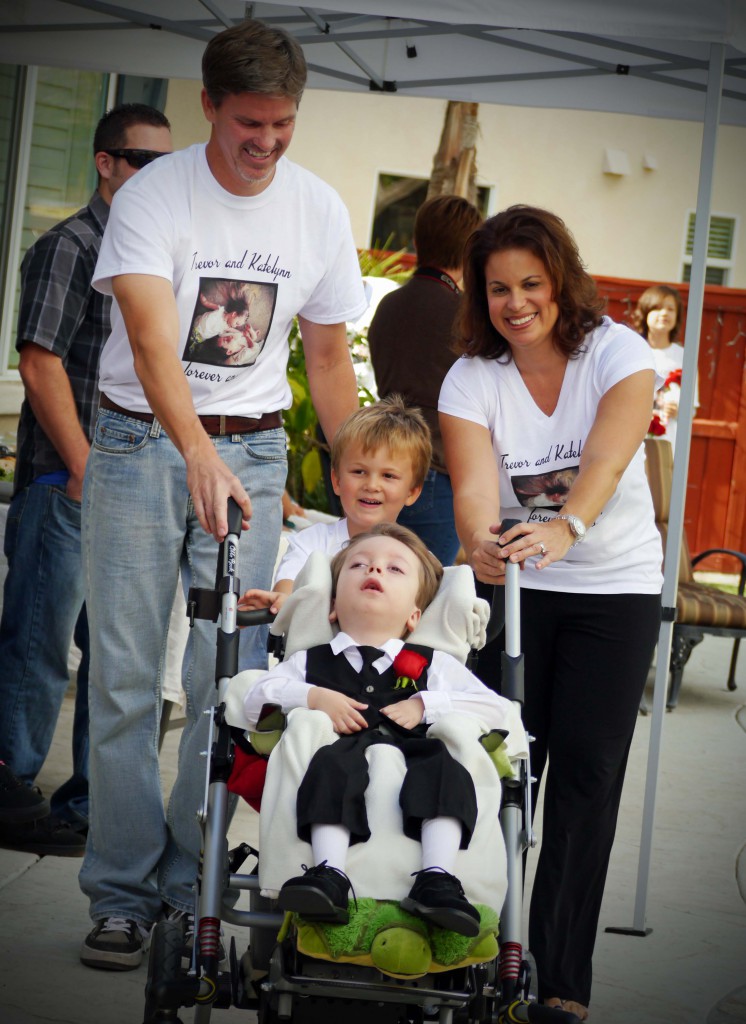 Indeed, Steve and Nicole have come a long way, longer than anyone could imagine. Over the last almost five years, Steve and Nicole have become powerful advocates for their son and for the leukodystrophy community.  Not only have they fought tooth and nail to make certain Trevor received the best possible care available, but they started the Peace, Love, and Trevor Foundation to ensure that other Krabbe families also have the resources to provide optimal care for their kids.
Our family has shared birthdays, graduations, and other significant celebrations together. We've attended conferences, advocated at various events, and been on parent-panels together.  And through all these experiences we've seen the beauty of Nicole and Steve, both individually and as a couple.
It is hard to even fathom that Nicole is gone. Partly because death is just so incredibly awful and partly because Nicole epitomizes the fullness of life!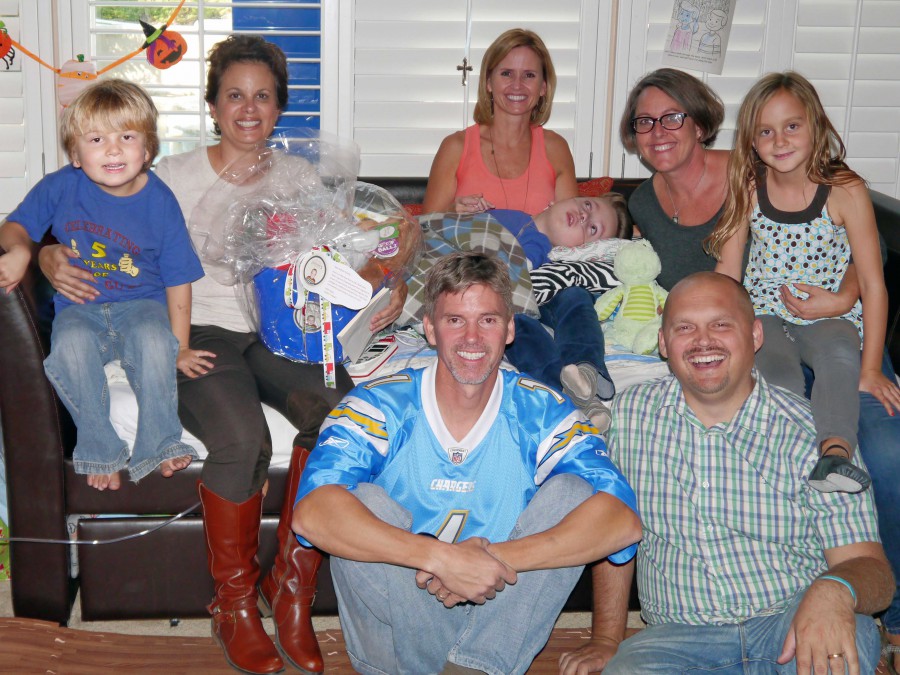 Nicole was vibrant, packed with energy, and charismatic, while being genuine and down-to-earth. She was also fierce–in the kindest of ways! People were naturally drawn to her and loved being around her, but you quickly learned that you never wanted to find yourself on the other side of Nicole's line, because she had an unmatched strength…one to be feared! Nicole was a fighter, a fighter for what she believed was right, and she was never afraid to ask; she would put herself out there in situations that would have caused most to cower. Yet, Nicole was gutsy with a finesse that yielded results. With all that she faced, I never once heard Nicole complain; instead I saw her rise to the challenge with extraordinary grace and strength.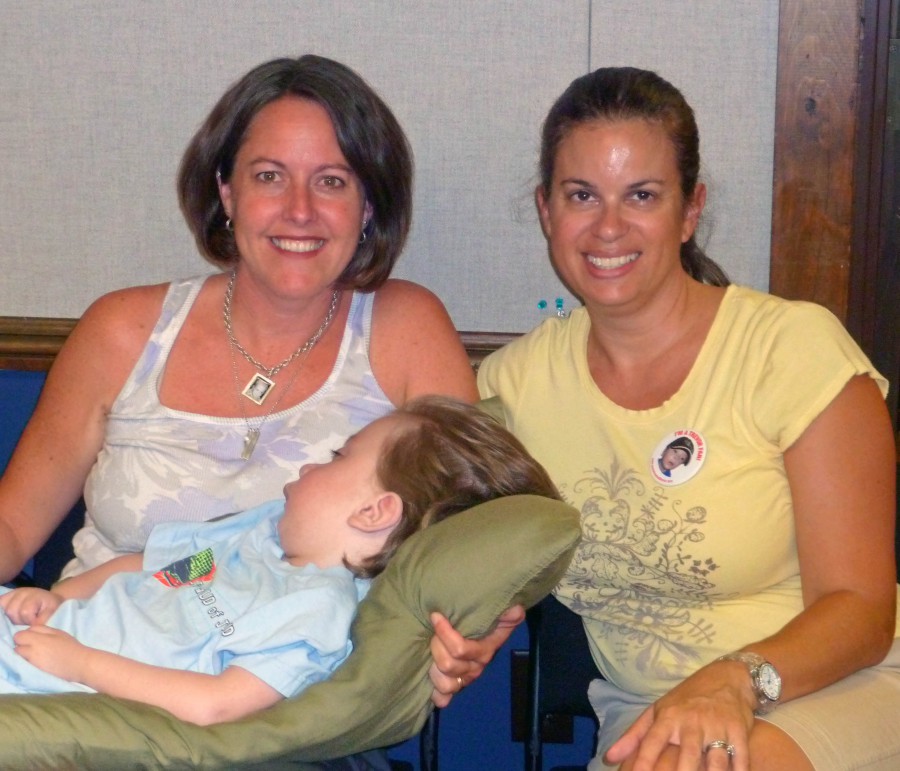 When we were around other kids with leukodystrophy diseases, Nicole found such delight in helping. Whether it was feeding-tube tips, suctioning advice, or feedback about medications, she knew her "stuff" and was quick to share her wealth of knowledge with others. She gave generously of her time, resources, and energy to love many well.
But the thing that made Nicole beam most was her family. She loved her boys so much, for who they each uniquely are, and spoke with great pride over them. She found tremendous joy in Trevor's distinct purpose in this world, while raving about her smart, sweet Tyler who is "off the charts" in a thousand different ways.
Moreover, Nicole deeply loved her man Steve! I have marveled at Steve. He is an amazingly tender and thoughtful guy, easy-to-be around and full of compassion. Steve has fought tirelessly alongside Nicole…and then began fighting tirelessly for Nicole.  He has loved and cared for his wife and family so well in the midst of his own brokenness and frailties through unimaginable circumstances.
And now his Nicole is gone. Tyler & Trevor's mom is gone.  The world's beloved Nicole Aldrian is gone.
Their story needs to be told. Their family needs to be upheld.
Oh dear Jesus, please have mercy!