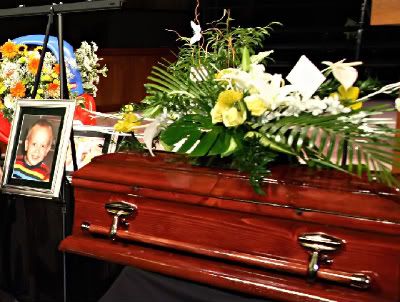 At this time last year, I was sitting in the front row of the memorial service for my beloved boy, his small casket just feet in front of me adorned with flowers and surrounded by some of his special toys. Hundreds upon hundreds of people had gathered to memorialize our sweet Judson and were seated behind me, but it was as if I was alone in that room with the mahogany box that carried the frame of my boy. My eyes were transfixed on it.
I had not seen Jud in 5 days and I was desperate for him.
It took every bit of restraint within me to keep from jumping out of my seat, running over to the casket, popping it open, grabbing my boy, and trying to breathe life back into his motionless body. "He's supposed to live!" I thought. "He's not supposed to die!"
I stared. I stared at that chest holding the greatest of treasures. I stared, hoping that it wasn't truly the end, hoping that light would fill the room and Judson would be given life again. Hoping…but all the while knowing that the only illumination to come from that casket was going to be the shininess of the enamel and the brass hardware glistening from the overhead lamps.