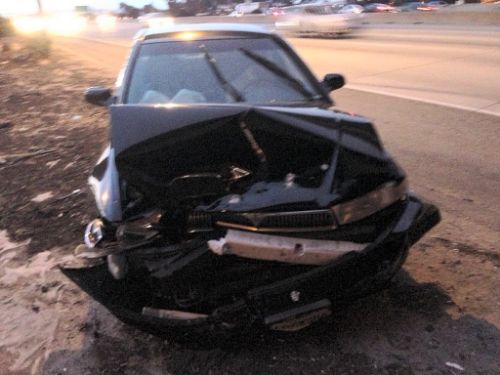 By no fault of his own, Drake was in a severe car accident weeks ago.  We are so grateful he is okay, having walked away with the ongoing aches and pains expected from a serious crash but nothing grave or life-threatening.  However, the car was totaled.
We have been confronted with many challenges associated with the accident, but I've been particularly struck by how much I've found myself mourning the loss of the car.
We bought our 1999 Mitsubishi Galant just a few weeks after Judson was born.  It was the car he filled with his chatter from the backseat.  It was the car that Judson regularly pretended to drive.  It was in that car that he'd ask me to play his favorite songs over and over and over again and would sing them at the top of his lungs.  It was the car that took him to and from his doctors' appointments and the vehicle he threw-up in on his way home from his MRI in Los Angeles.  That little black car was part of my life with my son—having been filled with O's (Cheerios), sand, trash, and stains by his hands.  I could picture Judson in that car.
The car is gone. I've grieved it.
But the sadness is not merely sentiment (like I feel over things connected to Jessie), or an unhealthy connection to an inanimate object, it's that losing the car reflects greater separation from my life with my boy, from the togetherness we shared.  Over time we've had to let go of so much tangible "stuff" that tied us to our son.  It's hard.  Whereas sometimes we've been able to choose when to let go of things, other times we've been forced to let go unexpectedly, like in this case, which carries more of a searing pain (read about the bunk bed and our home).
I continue to feel the ache of the increasing distance from my life lived with Judson.  But I am simultaneously aware that moving farther from our earthly time together concurrently moves me closer toward our unending, heavenly life together.
   Author: Christina