Soon after Judson died I recall calculating out the date when Jessie would be the exact same age as Judson when on November 7, 2007 he breathed his last breath. At the time, it felt like that grim day was well into the future, and the dread I felt in my heart was still a long distance away.
Today is that day. Today, July 3, 2009, Jessie is 2 years, 10 months, and 14 days old, the complete number of days Judson lived here on earth.
Why have I shuddered at the thought of this day? Why has it felt like a looming punch of extra pain?
It seems to symbolize how much our lives must move on without Judson. After today, Jessie will no longer be younger than him; she will be OLDER than her BIG brother. It cannot help but feel like he is getting left behind as this world keeps turning without his presence.
Jessie has also served as a sweet trigger for so many of our memories with Jud, but now as we watch her grow and develop beyond him we will be left to simply imagine who he might have been at her age rather than recall who he was.
Furthermore, as time goes on, it is likely that I will see Judson in Jessie less and less. I have enjoyed noting their similarities and differences in character, personality, and even appearance, but this will begin to diminish. Though this is probably an important part of Jessie becoming who she is, separate from her brother, it is also something I grieve.
This morning I took Jessie to get a ceramic impression made of her handprint. The evening before Judson passed away, a woman came to our home and did the same for him—I have held off all this time to get a matching print from Jessie because I wanted them to be the same age. Now these ceramic memoirs will both hang on our wall representing our two kids at 2 years, 10 months, and 14 days old…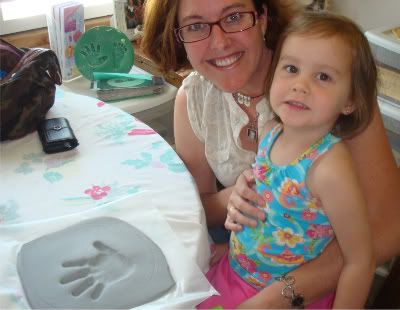 And though Judson's handprint is indicative of the end of his life, we pray Jessie's handprint will simply represent a special connection to her brother on a long journey of life.
As I have been looking into Jessie's eyes today, I have especially grieved the day of Judson's death. Sorrow overwhelms me at the my memories of that awful day. However, I cannot help but also stand in awe that our little lady remains healthy, vibrant, and alive. The life and death of her brother have shown us that we are not entitled to a single day with her. We live in amazement and filled with gratitude that Jessie is thriving. What a gift of joy we have been given in our Bug! We are so blessed that God has entrusted Jessie Girl to our care and thank him for each and every breath she takes!