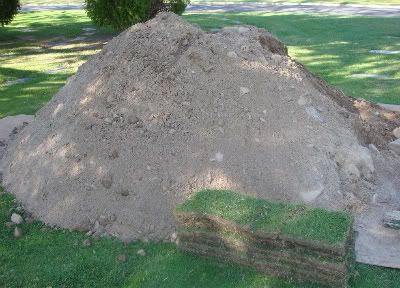 My son was buried a year ago today, November 13th.
There are four heinous moments in my life: the day we discovered that Judson had an incurable, terminal disease, the final hours of his life, the experience of Drake carrying his lifeless body wrapped in a Lightening McQueen sheet out to the mortuary vehicle, and the burial of my boy's body. Each of these incidents was excruciating beyond any description that could ever be written in words, but the final occurrence, laying Jud's small frame to rest, turned out to be the most awful for me.
I vividly remember driving along the narrow road of the memorial park arboretum, inching our way toward the burial plot for Judson's graveside service, when my eyes landed on a massive mound near our destination. I gradually realized this unsightly and unexpected pile of dirt was next to the casket of my beloved boy; it was, in fact, sacred soil – the dirt that would soon cover my sweet son's lifeless frame.
This mound of earthly dust revealed the severe finality of Judson's passing. When each shovel full of soil fell with certainty, it pounded the irrevocable reality of losing my son into my soul, making it clear that Judson was actually gone. There could be no hope of undoing, reversing, changing, or canceling his death; it now felt absolutely final (here on earth). This dirt represented the most dreaded conclusion to the most wretched journey, and catapulted us into a lifetime of loss and longing.
I sat on this dirt today. I adorned it with yellow rose petals and dreamed of Christ's return when Judson's body will be given life once again.