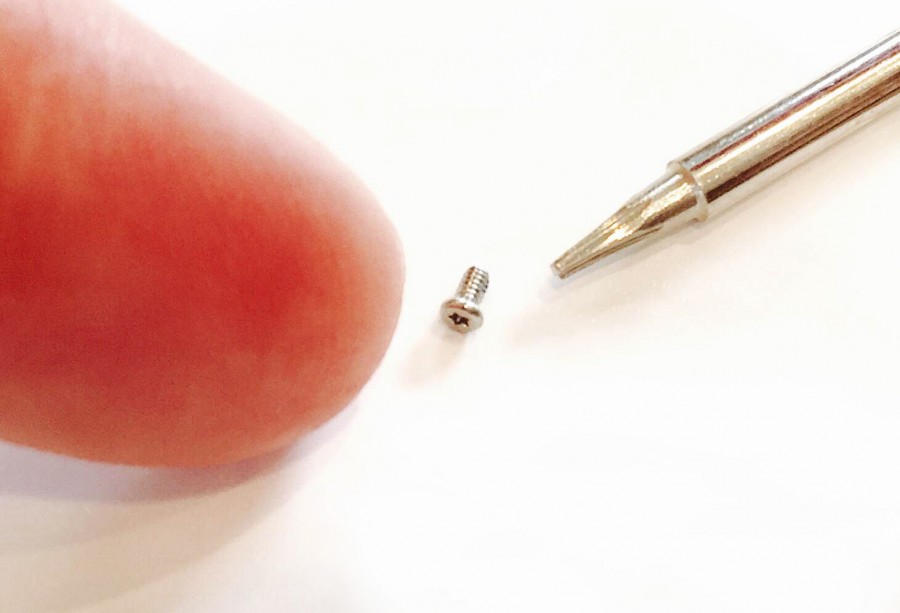 It was just a tiny, insignificant fastener-screw.
I had purchased a new watch band and was unscrewing some pieces for the replacement when one of the minuscule fasteners went flying through the air. I had no idea where it landed. So I put down the screwdriver, and my now-deficient watch, and began methodically scouring our kitchen in hopes of finding it.
After about 20 minutes of unsuccessful searching Drake arrived home from work.
Curious as to why I was slithering along our marble floor on my hands and knees, he asked, "What are you doing?"
Feeling defeated, I stood up and walked over to my watch lying half-finished on our kitchen table. "I got my new band today, but one of these teensy screws dropped out of my hand. I have no idea where it fell," I lamented with a deep sigh. "It's like trying to find a needle in a haystack, and if I don't find it I can't use my new band."
"I'll help you look," Drake graciously replied.
After several minutes of searching with me, Drake suggested I gently sweep the floor and pick through the dirt to see if we could find the screw that way.
Willing to try anything at this point, I systematically moved the broom along our filthy floor, and then carefully searched the piles of lint, dropped-food remnants, and cat hair (yuck!) in hopes of finding the screw. But to no avail. The little screw was nowhere to be found.
After 40 minutes of searching, I was ready to give up when Drake asked, "Do you wanna pray that we find it?"
My heart sank. I sheepishly acknowledge that I didn't want to pray about my lost fastener-screw. "Drake, that feels silly to me. I have a hard enough time praying about important things, much less something as insignificant as my watch screw.  What if we don't find the screw? I'll just be more disappointed."
I vulnerably admit that I've continued to have difficulty petitioning God with specific requests since losing Judson. I deeply fear further disappointment. Though I'm acutely aware that prayer isn't about getting what you want, but rather sharing your heart and engaging relationship with God, even still I struggle.
"Well, I'm gonna pray anyway." Drake sat down at our kitchen table, closed his eyes and proceeded to ask God to help us find the fastener-screw for my watch band. Meanwhile, I wrestled inside.
"Amen," he concluded.
Upon opening his eyes, he almost immediately exclaimed with surprise, "There it is!" pointing at a miniscule speck near him.
My mouth dropped open in disbelief, "Are you serious?"
Drake reached to pick it up and show me. There it was. My inconsequential watch-band screw was gloriously sitting in his hand.
"No way!" my heart leapt with joy and dismay as my mind began singing praises to God.
It was just a tiny, insignificant fastener-screw. But it reminded me how much God cares, even about the modest details of my life…despite my struggles to invite Him in.