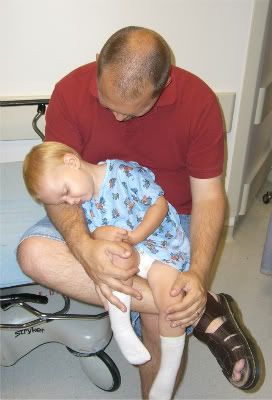 I took Jessie for her 3 year wellness check-up with our general pediatrician, Dr. K, today. I didn't think much of the visit until, after taking all of Jessie Girl's vitals, the nurse asked me to put a hospital gown on my little lady…
When the practitioner pulled the gown down from a nearby shelf, I was blind-sided by the memories that were triggered by the garment. A whole slew of emotions erupted in my heart. She was handing me a gown identical to the hospital attire Judson wore when he had to undergo tests and examinations during his illness. This was the very garment that signified unhealth, disease, and even death for me.
I watched the nurse place the clean, folded gown on the examination table, recognizing this was a moment to silently press into the pain.
She left the room, and without a word, I slowly unwrapped the blue, child's gown, delicately placing it on my healthy, vibrant girl. I made small bows with the ties in back and then watched in amazement as my "Buggy" began to dance and parade around the room, thrilled with her new threads.
All my heartache turned to pleasure as I delighted in Jessie's excitement. It was a little moment of triumph to find joy by engaging the pain.