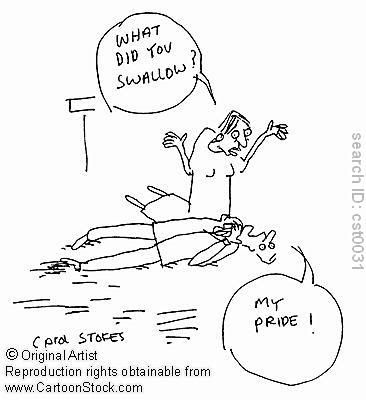 I am a proud person—and I'm not proud of it.
I am realizing more and more just how overly protective I am of my own dignity and highly concerned about external perceptions; I don't weather a bruised psyche very well.
A few nights ago, I woke out of a fitful sleep, sweaty, my heart racing and my mind plagued. I was stirred awake by my inability to let go of a humbling circumstance that was disproportionately affecting me. In fact, lately I have experienced what I would describe as a multiplicity of circumstances that have tweaked at my ego and poked at my pride.
Truth is, I fall hard with the temptation to be, or appear to be, relevant, competent, put-together, healthy, valid, and the like; when these perceptions are directly or indirectly threatened, I crumble. My pride gets in the way of being submitted in faithfulness to an audience of simply One.
I was awakened to this reality in my own life when someone close to me recently declared, "God is clearly chipping away at your pride." In hearing her words, I was immediately conscious of the fact that God does not need to chip away at anything if it is not a problem.
My pride is a problem…and I don't want to be deceived by pride.
Because pride is deception. It is to deceive myself that I somehow hold worth outside of God's breath on me. It is to wrongly elevate myself when only God is to be exalted. Actually, pride leaves little room for God at all, but a humble heart continually and honestly recognizes that everything points to the praise of God alone.
When pride comes, then comes disgrace, but with humility comes wisdom. –Proverbs 11:2
Oh dear God, hear my confession. Break down my stubborn pride and allow your grace to flood my heart.