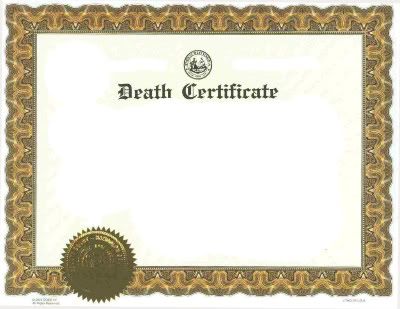 Today was the first time I was asked for a death certificate to prove that Judson is dead and I am actually his "next of kin".
This request apparently struck a sensitive cord with me because tears pooled in my eyes and I even got a little defensive with the woman on the phone from the medical records office for our health services organization. "Why do you need his death certificate?" I asked. "He died under your care. You should have all that information right there."
"Because we need to see that you are his mom."
"You know I am his mom—it's in your records! And I didn't have to prove to you that I was Jud's mom when he was alive. I am still his mom whether he is dead or alive!"
The poor woman who was just doing her job replied, "That's the policy. When someone dies we need a copy of their death certificate."
"Okay. I'll fax it over to you," I conceded.
When I put down the phone, the tears sitting in my eyes flowed down my cheeks…
I hate that our file cabinet holds a death certificate for Judson and even more so the fact that I needed it today.