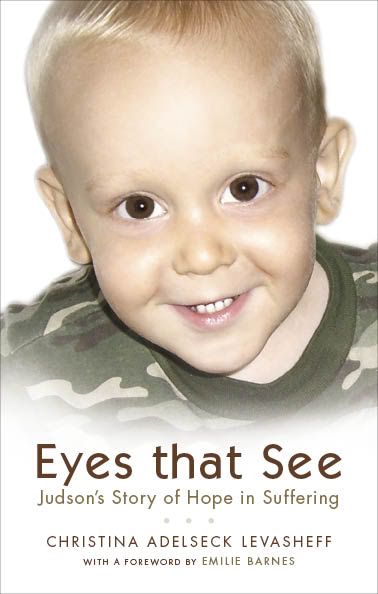 We are absolutely thrilled with this book cover and cannot thank you all enough for your feedback in our poll. It was extremely informative for us!
I had originally had my heart set on the hospital gown picture where Judson is looking to the side, but it became clear that was not the picture that drew people in most (over 72% out of almost 300 votes chose one of the covers with Judson looking forward—that's HUGE!). Interestingly, it was a almost a tie between people who wanted the light versus the dark color, though the light cover ended up ahead by just a bit. So it came down to our preference and, as you can see, we chose the light cover. It seems to have a softer, warmer feel to me while being a more reflective and hopeful hue.
So this is the final version. Pretty exciting, huh?
Many have asked when the book will be released. The publishing journey is really long! Though the manuscript is complete, already edited, and now we have a cover, it is still not expected to be released until the beginning of next year (though we are hopeful for a pre-release date in November or December—which means the books are available, but only through certain venues). The next step is for the inside layout, then design of the back cover, and then the final step which takes almost two months is to get the book set for distribution (meaning it will be available on all major book sites…Amazon, Barnes and Noble, etc.)
We are so grateful for your interest and commitment to this project. It means a great deal to us!
*A special thanks to my friend Alissa Clark who helped me put together the mock up covers for the second poll based on the original from the publisher. Didn't she do an AWESOME job?!!? She is also one of the designers for Judson's website—and she has done all of this simply out of the kindness of her heart. Thank you Alissa!*