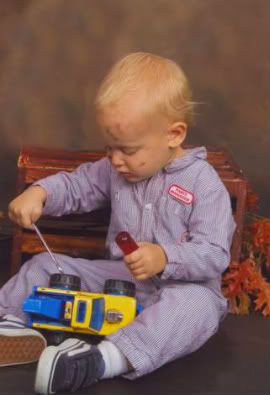 Two years ago, on Halloween, Drake and I spent the evening with a little "Sweet Pea" and a "Car Mechanic". We went to an event at the fairgrounds where Jud had the chance to sit in a huge Army Jeep, see a Fire Engine, enjoy a small petting zoo, and partake in a few carnival games, all the while getting some major candy loot. Afterwards, we went trick or treating in our neighborhood for the traditional Halloween experience.
I vividly remember walking to the park the next day when Judson enthusiastically asked me, "Can we go trick or treating again today, mommy?" clearly having enjoyed the festivities from the night before.
"Oh Judson, I'm glad you had so much fun last night, but trick or treating only happens on Halloween. Yesterday was Halloween, but not today. We'll get to go trick or treating again, but we have to wait a WHOLE 'nother year. That's a long time, but it will be something to look forward to! We'll certainly do it again next year."
Fast forward a year and my son is dying.
I was not even sure whether Jud would live long enough for me to fulfill my promise from the previous year. Krabbe had destroyed so much, and a few days prior to Halloween Judson had caught a virus that had been floating around; it was wreaking havoc on his already diseased system. But I was determined to do what I could so Jud could partake in Halloween again.
Knowing we would be wheeling him around in his blue "race car" if we had the chance to trick or treat, I searched high and low to get him a race car driver costume. It was my hope that he could, if only for a moment, experience a bit of the thrill from the previous year.
Though Judson was so frail, fragile, and even feverish, we decided to go for it. We suited him up that evening for what proved to be the last ride of his life.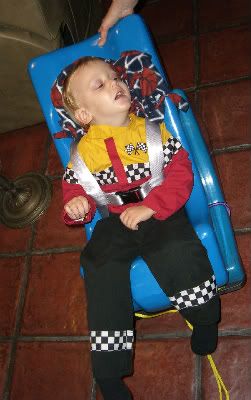 Sadly, we had to quickly return home because Jud was struggling—that's when it hit me—this world held little for him anymore!
Our precious son never left the house again. He died exactly one week later.
Halloween is an extremely painful memory; it represents all that Krabbe stole from our boy and signifies the beginning of the end.