1. Our former church community at EV Free Fullerton has continued to be a huge blessing in our lives even after we moved three and a half years ago. This week we were honored to join them on Sunday and share about the things God has recently been impressing upon our hearts through our journey with Jud. It was a sweet time and reminded us just how much we miss that community!
2. As Jessie and I were walking to Chuck E. Cheese's this week, I was struck by what a gift it is that we have so many things we enjoy within walking distance of our home. Next week our bank will even been located around the corner from us. I am thankful for the way it gets us out of the house, breathing fresh air, and enjoying a little exercise.
3. For almost a year and a half now, we have been meeting our dear friends, Dean and Sarah, for Taco Tuesday and frozen yogurt every week. The consistency of relationship with them is such a blessing and I am thankful for the special way we share life together!
4. We had the chance to visit the Easter Bunny at our local grocery store this week and when it was Jessie's turn to have her picture taken, she was intent on giving the huge, fuzzy, human-like creature, tons of hugs and kisses…her sweetness was oozing all over the place. I am grateful for such a tender, affectionate, little lady!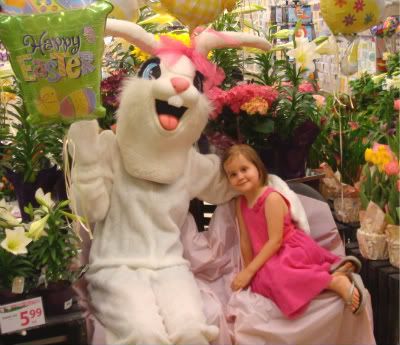 5. As we move forward with Judson's Legacy, we have been very grateful for friends who have gifted us with their services. Particularly this week, I had consultative phone calls with our friend, Jenn, who is an accountant, and my friend Candace's husband, Brian, who is a lawyer. Their input was invaluable and we are grateful for their willingness to be a resource to us.
6. It is hard to even articulate how grateful we are when people seem to take up our cause and make it their own. Most recently our friend, Cristina, has practically taken it upon herself to be our publicist. Unbeknownst to us, she has been movin' and shakin' in some noteworthy ways, constantly telling us how much she believes in Judson's story. We are so thankful!