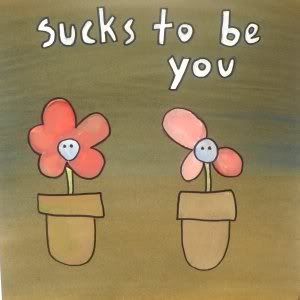 Awhile back I was invited to write an article for Christian Women Online magazine about God's grace through Judson's suffering and death, and asked specifically to describe the manner in which God has carried us through our circumstances. Occasionally, I check to see if there are any new comments posted to the article.
The other day I noted a new comment but was a bit taken back by the content…
"Sucks to be you!" it read.
The remark lingered in my mind. Interestingly, it wasn't the clearly callous and heartless nature of the response that caused me to pause, it was the substance of what was being communicated; the author was overtly expressing contempt for my life.
A comment such as this can tempt me into self-pity, buying the lies that my life indeed "sucks," enticing me to scorn my suffering.
Truth be told, most of us want a life that would be desirable to others; we want experiences that are attractive and might even elicit yearning and envy from people. We expect to feel validated if somehow others find our journey to be alluring. Living in this world we are bombarded with tweaked messages that assign skewed value to various life experiences and it is easy to digest these lies.
Since losing Judson, I have been faced with a life that others might consider unappealing or even loathsome. On one level it stings, but on a much deeper level I find myself overcome with the hope that the Lord, in fact, honors that which the world deems unattractive. He blesses the poor in spirit, those who mourn, the meek, those who hunger and thirst, the persecuted, and more (Matthew 5) – those who are rejected by the world are cherished by God. He esteems that which is disregarded. He values what is despised. He adores what is mocked.
So where the world may look at my experience and say, "Sucks to be you!" I want to lean into my Father who declares, "Beloved are you!"