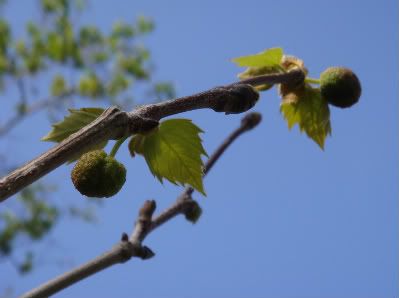 When we had a special tree planted in honor of Judson at the park outside our home, it did not take long for it to lose its leaves for winter, even though it was planted in the summer. Not knowing much about trees and because its cycle seemed off season, I began to get concerned that this sweet memorial sapling was ill and may be struggling for survival.
However, the other day I went out to the tree and discovered that lively new buds and leaves were appearing on the young sycamore. It was beautiful!
And as I gazed at this fresh growth, reflective of good things to come, I had hope that it could be a picture of my life.
I have felt stripped bare and at times lifeless from my grief and sorrow, discouraged by a lifetime of living without my son. It is as though Judson's suffering and death stripped me of all signs of vibrancy like a weak, bare tree. However, I have hope that fresh buds and tender leaves will begin springing up in my soul again, that there will be new signs of life growing within me.
Our lives are a movement through one season after another and after living so long in the bleakness of winter I am encouraged to see small little signs that spring will someday come again in my heart.