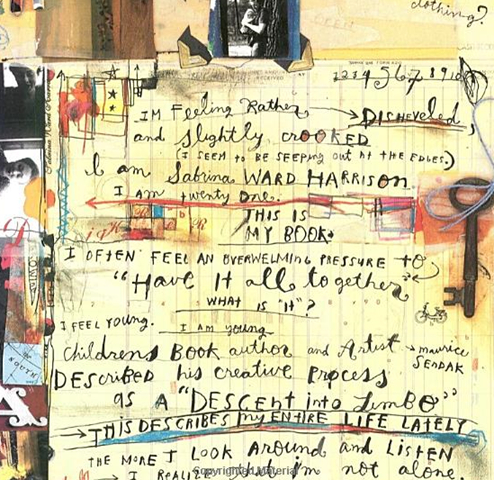 Back in 2000, my friend Dana, a Biola colleague at the time, gave me a book for my birthday that proved to be formative to my creative process, affecting all my subsequent writing.
It's not a narrative, a faith-based read, a writing manual, or an imaginative story, but rather a compelling collection of art journals that give the reader insight into the raw struggles of a woman in her early 20's "becoming herself."
Spilling Open, by Sabrina Ward Harrison, is an experience rather than a read — each page is splashed with photos, vibrant colors, drawings, and hand-written words that find the reader turning and tilting the book sideways and upside-down to unwrap the content of another's soul. I became wrapped up in the expanse of Sabrina's inner thoughts; it was not necessarily that her struggles were my own, but rather, her vulnerability was powerful and gripping. I connected to the rawness of her words and pictures, to the depth of her passion, and most importantly peered into a freedom that seemed to emerge from bearing her heart openly. The book held me in awe, challenged me to grow, and inspired me to creatively convey the depths of my own internal journey.
Just a couple weeks after receiving the book, Drake and I spent several days in Crestline, CA to rest and relax. We enjoyed much of our time sitting by Lake Gregory soaking in the sunshine…and this is where my own "spilling open" began.
I had long been a journaler, but my writing started to take new form. I embarked on an exploration of my insecurities, fears, and questions; the unconscious constraints that had long kept me from wanting to feel those pains had somehow been torn away. I started gushing the tangled mess of my soul onto the page before me: my frailties, ugliness, uncertainties, frustrations, and angst. I let it pour out, and the more I did, strangely, the more whole I felt.
Somewhere over the last decade, Spilling Open wound up sitting on my bookshelf. The other day, my friend, Bronwen, brought it to my attention and I pleasantly recalled the pages that I realize had unwittingly proved foundational to No Artificial Colors or Flavors, this blog.
And I was reminded to "live it all, the doubt –the desire, the overwhelming ache, and that to feel so deeply is good—it is real…allowing us to experience God's huge love and acceptance of us AS IS" (Sabrina Ward Harrison).
_____
How do you creatively express your soul?
Categories: Writing