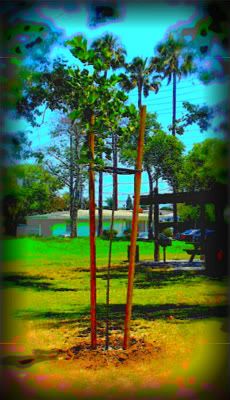 Before leaving our former home, I was sitting at our kitchen table and happened to look out at Judson's tree in the adjacent park and noticed someone standing nearby it, leash in hand, with a cute little dog beside him. The park was otherwise vacant.
I would often see people near Jud's sapling, but this time was different; what caught my attention was the manner in which this middle-aged man was emphatically waving his arms through the air as if carrying on an intense conversation with someone. But there was no one nearby — only his dog and our little Juddy's tree.
I watched with curiosity as this went on for about a minute. Is he talking to his dog, I wondered? But he was facing Jud's sycamore and his dog was behind him. Who is he talking to?
He then turned and walked away into a house across the street from the park. I was about to go back to my business when a few seconds later, he re-emerged from the house. This time his dog was not with him. He walked straight over to our little man's tree and continued what seemed to be a very passionate dialogue…with the baby sycamore dedicated to our son.
It was incredibly odd and a bit jarring for me.
I'm sure there is a possibility this person may have had a mental illness, but wheter or not that was the case, it was striking to me that Jud's tree somehow held influence with him, a stranger. There was clearly something about the sycamore memorial that had significantly captured his attention and energy.
While watching this man, I became convinced that something unseen to me was profoundly affecting this guy–it left me with lot's of questions.
____
What do you make of this story?
Categories: general