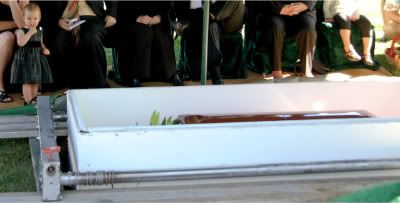 Thursdays are still my day to visit Judson's gravesite when I have the opportunity. As I laid out my blue blanket on the grass near his grave-marker today and looked around at all the other names of people buried nearby, I started to calculate their ages – 80, 84, 76, 83, 40, 62, 66 …
Then there was Judson – 2!
My audible cries began. As the lawn-keeper rode by hydrating the nearby grass I was heaving in fits of sorrow as I considered how his death flies in the face of what is "normal". I heard myself crying, "He's just so little! He's so little! Oh God, Judson is so little! He's so little and I hate this!"
Each of the surrounding 7.5' x 3' plots was probably an appropriate amount of space for the contained caskets, but Judson's vault holds a tiny little casket of a boy just over 3 feet tall. There could be nothing right about seeing a young child laid to rest amongst adults and seniors who have lived full lives.
All is NOT right with this world…I look forward to the day Jesus changes that!