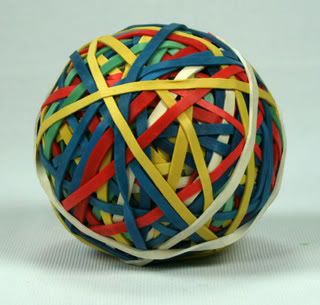 So often my emotions in grief feel like a huge rubber-band ball.
There are so many different feelings, all of them tangled up together and hard to sort out; they create a heaviness in my soul. And it is as though I can't get to some of the central emotions until I deal with the peripheral ones that are most apparent. Those outer emotions are taut with potential for snapping, requiring immediate attention, but they aren't the core.
This must be one more reason why grief is such a long journey…
I seem to have a lot of rubber-bands on my ball.