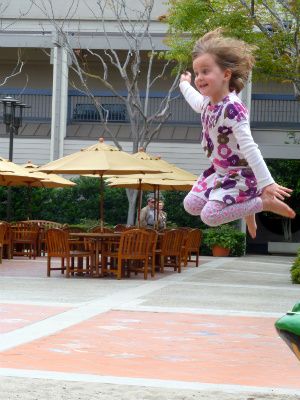 My every breath is filled with hope for the day when God will wipe away every tear, and there will be no more death, or sorrow, or crying, the day when pain will be no more (Revelation 21:4).
But 2010, in particular, left me trying to find hope for this lifetime—my eyes were blurry from pain and my prayers of desperation felt as though they were bouncing around in a dark void, unheard—present hope was eluding me.  I begged God for new glimpses into his faithful provision, of his plan for our future, of his love and care.
When we got news that our home foreclosed and we were being forced to move, leading to very disconcerting issues with our landlord, it felt like the final blow to my already frail hope.  I admit to many episodes of shouting aloud in a vacant room, "Why do you despise us?  What have we done?  Why don't you care?"  Feeling abandoned and forgotten by God, I found myself in another heap of questions, concerns, and aches.
What I did not know at the time was that the foreclosure was actually part of God's answer to my pleading and would wind up providing a new glimpse into his faithful provision, his plan for our future, and his love.
We have been living in our new home now for over a month; it has felt like grace pouring down from heaven.  I could not even begin to list here the numerous gifts we are experiencing while living in our new pad.  And while many of them are things we specifically looked for in our search for a new place, there have also been several unexpected blessings.
We are living a block away from my Ventura childhood friend, Kelly—a candle-lighter in our wedding and a dear friend through many seasons of my life, including Jud's illness, who also has a daughter just 3 months older than Jessie.  How cool is that?!  We moved onto a street with other small children who have already become welcome friends for our Jessie-Girl.  We have an expansive area surrounding our home where Jessie can safely play, ride, scoot, run and explore. And the list could go on…
But some of the blessings have actually been things we didn't necessarily even desire, yet now see we needed.
Moving has given us a fresh start.  We have new energy.  We have been able to break some of our sorrowful rhythms that had inevitably become part of our daily lives.  Our souls are finding renewal in the haven that is now our home.
Interestingly, in hindsight, the circumstances that followed the signing of our new lease now seem to make it even more clear to me that God was involved in this move, though I couldn't see it at the time.
What many do not know is that a few days after committing to live in this home by putting down a deposit, we were informed that our eviction was being canceled by Freddie Mac; the foreclosure was being reversed (for those who don't know, this is absolutely unheard of!).  This meant we were no longer required to move.  However, seeing as we had already fully committed to a new place, a move was still imminent.  This left me incredibly frustrated, broken, and confused, especially because we would no longer receive any of the benefits offered to us as tenants in a foreclosure situation while also needing to continue to deal with our boorish landlord.
I was reeling inside.  Again shouting aloud in a vacant room, "Why do you despise us?  What have we done?  Why don't you care, God?"
As I now feel the showers of grace in our new abode, it seems to me that what felt like a cruel joke at the time was actually God's intervention on behalf of our family—God's provision and loving plan.  My sorrow had blinded me and led to distrust, but even so, God still graciously showed his faithfulness.
We needed to move.  I'm not sure I could have ever done it on my own.  God knew.  God interceded in the circumstances.  Maybe God even allowed the home to foreclose and then be reversed, just to uproot us.  Whatever the case, I have renewed hope.
Thank you, God.
_____
Where have you seen God's faithfulness even when you've lacked faith?