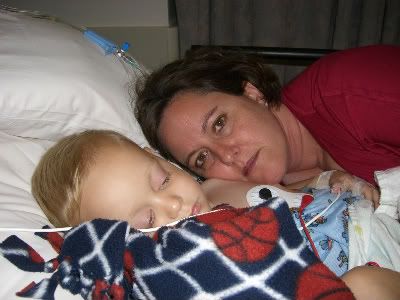 Yesterday morning, as I was going in for surgery and general anesthesia for the first time, all I could think about were the two times that Jud had to be put under for his MRIs. I remembered our fears and anguish as they wheeled him into the imaging unit. Then recalled lying next to him and holding his little body as he slowly came to, wondering what could possibly be plaguing my precious little boy, all the while praying that his symptoms were reversible, that it was nothing serious, and that my Jud Bud would be whole once again.
As I laid on the gurney getting prepped for surgery the hospital staff asked numerous questions, but one question caught me particularly off guard, "Have you had any recent loss?"
"Yes." I replied.
"What type of loss?" the nurse inquired.
"My son died."
"When was that?" she continued coldly without skipping a beat.
"14 months ago as of yesterday," I responded, wondering whether or not she was even listening to my responses because I could not understand how she could be so unaffected when hearing her patient share that she had lost her beloved boy.
"Are you still affected by it?" she asked as if she thought it had been a long time for me to still be mentioning it as a recent loss.
Am I still affected by it? I wanted to burst into to tears and describe to her how my every thought that morning had taken me back to my boy—how I had been thinking about my experiences with him during his MRIs, how I hated removing my necklace with his picture in preparation for my procedure, how I wanted to change my hospital band to my other arm so it wouldn't cover up his tattooed name on wrist, how tears had been rolling down my face as Drake and I had just been talking in the car about the bad memories at the other Kaiser hospital.
"Am I still affected by it?" I repeated the question with a sense of surprise that it had been asked. "Yes! I am still very much affected by my son's death!" I replied, struck by the way so many people seem to have absolutely no idea how deep these wounds run.
It may be many years before Judson's loss no longer feels "recent".