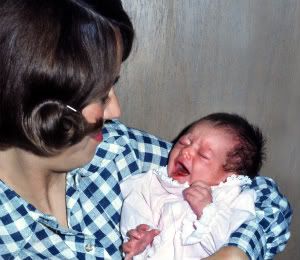 I'm currently in Ventura visiting my folks, and as I sprawled across the bed in my old room, transformed into a guestroom many years ago, I happened to notice a pink book-box propped upright, seemingly out of place on an antique maple bookshelf amongst a sprinkling of random books and photo albums.  I picked it up and noticed a handwritten note on top of the box in my penmanship; it read, "Personalized Just For YOU!!!"
I inquisitively opened the box and discovered a book I vaguely remember having given my mom for her birthday back in 1993 while I was in college at Biola.  The title:
For Mom with LOVE
by Mary Hollingsworth.  As I thumbed through the pages filled with quotes and stories about motherly love, I noticed personal messages I had written to my mom directly in the book that corresponded to every quote and narrative.
I proceeded to read each page, touched by the sentiments of the author and glad I had honored my mom in this manner.  I also saw considerable irony as I held this book—seeing as all my broken-heartedness is tied up in the role of mom, and here I was reading thoughts about motherhood, many of them my very own from a day when I was childless and clueless as to the road of parental loss that was set before me.
Then I stumbled upon a page that contained an excerpt from Jane Merchant's
In Green Pastures
titled "New Mother":
"I will let nothing hurt you."
She told the child asleep:
And wept because the promise
Was one she could not keep.
Upon reading the first stanza, it surfaced every powerless desire I had to rescue Judson from the intense pain that ultimately stole his breath.  Oh, how I wanted to save Judson, to shield and protect him from the evil that devoured his body.  I could not abate the pain.  I could not heal him.  I could not promise him anything.  All I could do was try to comfort him and pour every ounce of love I had into his soul so he could endure to the end.
Then I read another stanza:
"Life has deep hurts," she whispered
"Which no one can avert.
God help me teach you strength and love
For conquering any hurt."
This stanza brought me full circle back to my own mom (and dad) and their efforts to teach me strength and love that I might overcome the anticipated deep hurts of life they'd be unable to prevent.  Yet, I'm sure they never imagined this kind of journey for their daughter and I know they have been filled with feelings of helplessness as they've watched me suffer the loss of my Bud Bud.
Then I saw the corresponding words I had handwritten over 15 years ago, "Mom, I know you cannot shield me from pain, but you've always been there to help me in the healing process."  Here I was, sitting in my old bedroom, having retreated to Ventura for a few days of renewal and care from my parents because they continue to "help me in the healing process."
This lead me to imagine the words that Jud might write to me…
"Mommy, I know you couldn't shield me from the pain, but you did everything you possibly could to be there for me, and now I am completely healed.  I want you to begin to heal too!"