Last year when Jessie went to visit Santa she started bawling immediately and did everything she could to try and wiggle out of his arms. By the time I had captured a couple photos, her shoe had fallen off and one might have thought she'd been scarred for a lifetime, never to appreciate another Santa encounter again.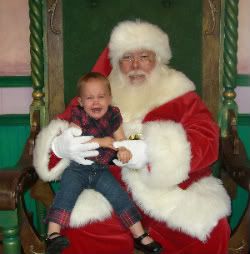 But what a difference a year makes.
Jessie practically ran up to Santa this year and when the jolly old fellow picked her up and put her in his lap, she was thrilled to find herself in his company.
She started chatting with him, pointing out things for him to look at, and even posed with her cheesy grin for a picture.
It made for a very fun Santa experience, not to mention her delight riding the carousel, doing a Christmas craft at the mall, and then going to the playground afterward.
I'm just so grateful for the opportunity to experience Christmas through the eyes of my Jessie Girl!