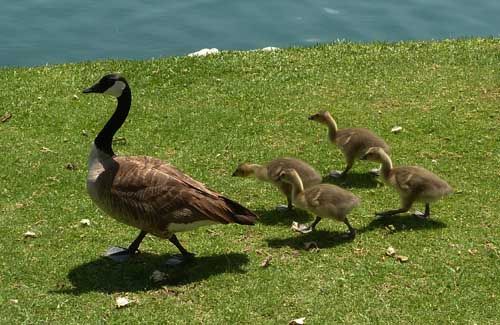 At dusk today I went for a stroll around our nearby lake, then found a solitary area along the water to reflect and soak in the beauty of the sunset. Moments after perching on a rock, I was pleasantly surprised to discover four goslings enthusiastically waddling toward me. I watched with awe and wonder as their fluffy little bodies headed my direction. But mama goose suddenly sounded a startling warning honk and her babies immediately returned to her side.
After putting about 10 feet between us, the mama goose seemed more comfortable with my presence and we all went about our business. She and her little ones were pecking at the grass as I listened to the wind rustling in the trees, watched the lights dance across the water, observed the ducks skimming and gliding along the surface of the lake, and breathed deeply of the impending night air.
I sat for awhile, thoughts bouncing around my mind, while periodically glancing over at the geese family (dad was there too).
With darkness settling in, the mama goose proceeded to find a resting spot. She got comfortable as her babies inched toward her. Then in an amazing, natural moment of mothering, she stretched out her right wing and gently tucked her goslings underneath, closely beside her—safe, covered, and secure. Meanwhile, dad kept guard nearby.
I suddenly wept.
The beauty. The tenderness. The vulnerability. The instinct. The care.
I wept some more.
The security. The sacrifice. The devotion. The protection.
And then I bawled.
I bawled over my loss as a mother. I bawled over my inability to shield my son from the harshness of this world. I bawled over my innate longings to tuck him under my wing, safe from harm…and yet harm befell him. And now I look under my wing and see only one little gosling, and I know I cannot fully safeguard her either. It tears at my intrinsic responsibilities as a mother not to be able to wholly protect my children.
Even still, though I no longer have the gift of being able to tuck my boy under my wing, I am fully aware that he is, at this very moment, truly safe, covered, and secure.
And I am reminded that it is only under Jesus' wing that any of us are ever truly safe, covered, and secure.
Tuck me in, Jesus. Tuck me in.
Categories: parenting, grief