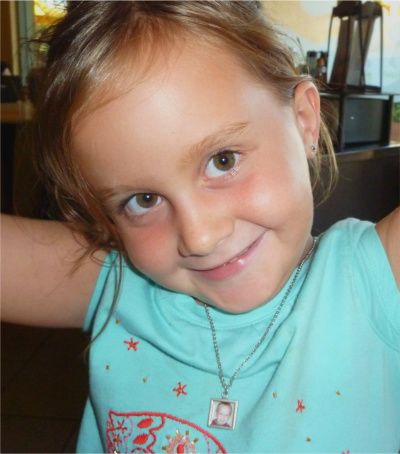 When Judson died, a couple different people blessed me with beautiful necklaces that have a photo of Jud, or a picture of Jud and Jess together. Over time, one particular necklace became a part of me; I realized that I felt naked without it. So unless absolutely necessary, I never remove it.
Jessie has grown up seeing me with this necklace around my neck. I remember the day we were sitting in Starbucks and she asked me if she could have her own Judson necklace. My heart melted, partly because of her desire to exhibit her love for her brother, but also because I knew she wanted to be like mommy.
I realized I had the perfect necklace for Jess. It was one given to me that displayed a small color portrait of her brother, a photo that happened to be captured from a picture of Jud and Jess together. Judson was grinning from ear-to-ear because he was patting his sister's back and lovin' on her.
Periodically Jessie asks to wear the necklace. This last week, Jessie had been wearing it every day. With school approaching, I became a little cautious about her wearing it on the first day, unsure of the dynamic it might create with her peers and teachers if they ask who it is. So I inquired, "Are you thinking that you want to wear your Judson necklace on your first day of school, Jess?"
"Yes, mommy. I love this necklace."
"Okay," I responded, a little reserved.
The night before her first day of kindergarten, as we were about to put Jess to bed, I looked down and noticed that the pendant was missing from her necklace. Before saying anything, I moved the chain around with my fingers, hoping I was wrong. My heart sank.
"Jessie," I hesitated, "I think your Judson pendant is missing."
My little lady erupted in tears. "No, no, no," she cried. "I need it, mommy! I need my Judson necklace. I miss him SO much and I need to wear it to school! We've got to find it." She was inconsolable and my heart was gripped. "I need it. I need it."
And I knew she meant it. She needed it.
We scoured the house, but could not find the pendant.
I went upstairs to my jewelry box, looking for another Judson necklace. I had one. It was a black and white photo of Jud and Jessie together. "Jessie, I have another Jud necklace. In fact, it might be even better for you because it is the two of you together. It is perfect."
She was reluctant, at first, but completely satisfied once it was around her neck. "Mommy, how old would Judson be?"
"He would be 6 ½, Jess."
"What grade would he be?"
"He would be starting first grade. You would be just one year apart in school," I replied.
"I miss him so much. I wish he was going to school with me."
"Me too, Jessie Girl. Me too," realizing Jessie didn't just need her necklace, she needed her brother.