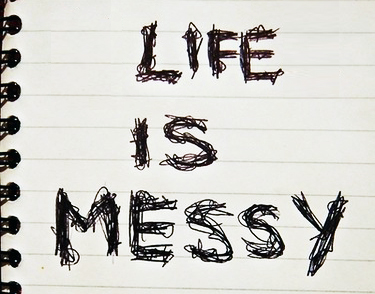 Life is messy.  And life in the midst of grief is especially messy.
I have been thinking a lot recently about my interactions with friends and even acquaintances in my grief: some are sweet, some are okay, but some sting. A few things stand out to me.
First, it means so much when people acknowledge our pain; not that it was painful, but that it is painful.  Many people, though they are very aware of our loss, tend not to address it; not even with a knowing glance or touch. I think this is because they perceive it might cause us more pain for it to be acknowledged.  On the contrary, it's okay to point out the "elephant in the room." In actuality, acting as though our pain is invisible hurts far more.
Second, it is hard when people, who have never lost a young child, try to equate our pain with something in their own experience, rather than simply acknowledge that they cannot understand what we are going through. Everyone has experienced pain and loss (or they will) but no two experiences are the same. I appreciate when people admit that each loss and journey of grief is different.
Third, I am touched when people persist in trying to reach out to us, even if our sorrow makes us difficult to reach, especially because we have little we can offer in return during this season. I see the self-lessness this requires of people; it is a love that is particularly meaningful.
Fourth, I hunger for the freedom that comes from being with people who are not trying to fix us. They recognize that what we are experiencing is part of the process of grief and though it is hard to see the hurt, they are not trying to clean up the messiness and "make it better." They give us space to just be–whatever that might mean.
I was given this quote, written by someone who also lost a young child, and it resonated with my experience:
I have moved to an emotional place where it is often very difficult to meet me. My attempts to be normal are painful and each day carries a quiet but screaming anguish that accompanies me every moment. Were I to give it its own voice, I fear I would become completely unreachable, and so I remain "strong" for a host of reasons, even as the strength saps my energy and drains my will.  Were I to act out my true feelings, I would be impossible to be with.  So I choose to act "normal," because I dare not do otherwise.
People who understand this dynamic are gold.
Working my way through this over the years will change me, as does every experience — and the more extreme the experience, the more extreme the change. I will know my grief has dissipated when, as I have read, it is no longer so painful to be normal.  I do not know when this will be, who I will be at that point, or who will still be with me. ~Michael Crenlinsten (Adapted)
Life is truly messy.
Yet, when we interact with people who are not afraid of our messiness spilling onto them, risking making their own life a little more messy too, we know we have found gold!