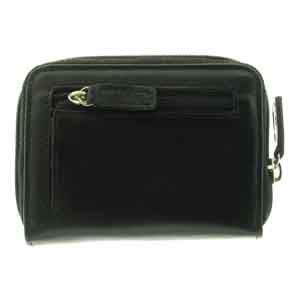 Last Thursday, Jessie and I had the chance to visit our new home to take measurements and pictures in preparation for our move this Saturday. Afterward, we decided to stop at the nearby park for Jessie to play. Meanwhile, I was sitting under an adjacent tree talking on the phone. Unbeknownst to me, while I was in deep conversation, my wallet fell out of my purse. So when we stopped at a local coffee shop to have lunch, I was perplexed when I reached for my wallet to buy a drink and it was not there.
I drove home without too much concern expecting to find it sitting on our ottoman; I had just filled my wallet that morning with all our cash for this pay period, so I assumed I had simply forgotten to return it to my purse.
When we arrived home and it wasn't where I expected to be, I became frantic — overturning every nearby cushion, pillow, and toy in hopes it had just been unwittingly moved. Within minutes I had turned our car and home upside-down in my search. Nothing!
I called Drake in a frenzy and he came home from work to help me search. We retraced all my steps that morning and drove back to the areas Jessie and I had been. After a couple hours of hunting…still no sign of my wallet!
Drake went back to work and I continued hysterically going over every inch of our home a second, third, and fourth time; then I took the time to call our financial institutions to put a hold on all our accounts.
To describe myself as distraught would probably not do justice to the panic I felt as I imagined us facing the next two weeks without that money, along with feelings of shame for being the one who had lost it. I was numb, and my conversation with God was silenced by my troubles.
I sat with the reality of a lost wallet for almost 24 hours. Then my phone rang the next day, "Is this Christina?" My heart raced with hope.
"Yes, this is Christina?"
"Hi. My name is Blair.* I have your wallet. I found it at the park yesterday and have been trying to reach you ever since." I fell on the floor in relief as I listened to her words, blown away that my wallet had been found…by someone with integrity! She continued, "I actually just spoke with your mom. It turns out that her address was on an envelope in your wallet and that is how I finally tracked you down."
I was stunned.
"Actually, your mom mentioned that you are moving to the neighborhood and it sounds like we are going to be neighbors."
Amazed, I just began expressing my gratitude over and over. Then we worked out the details for me to come and pick up my lost, black, leather billfold that was now found.
When I drove up to her home, I was shocked to discover that she is literally one of my new neighbors – our garages basically face one another. Blair warmly invited me into her home and what might have been a brief conversation turned into more than an hour of heart-to-heart dialogue while Jessie played upstairs with two of her three children. She compassionately engaged my journey with insight and understanding and as we sat on the floor chatting, I began to have a strong sense that this was not a meeting of happenstance, but rather our encounter was as a truly God-ordained gift. We were discovering our shared values, our common faith, and similar parenting ideals.
At one point in the dialogue when we were discussing Judson, I pulled out one of our information cards with his picture, web address and birth/death dates. She glanced at it, did a double-take, then looked up at me with tears pooling in her eyes, "My youngest daughter was born on the exact day that Judson died."
Tears pooled in my eyes too. I didn't know how to respond. But what might have felt like an especially painful coincidence in another circumstance, instead felt like a startling confirmation of God's presence in our encounter.
As I left her home, I was not only incredibly relieved to have my wallet returned to me, but I left with an abiding sense of God's hand of care over me. For out of my panic and shame, God's grace flowed abundantly.
_____
Update: Blake and her family have become the dearest of friends!!
Categories: general life