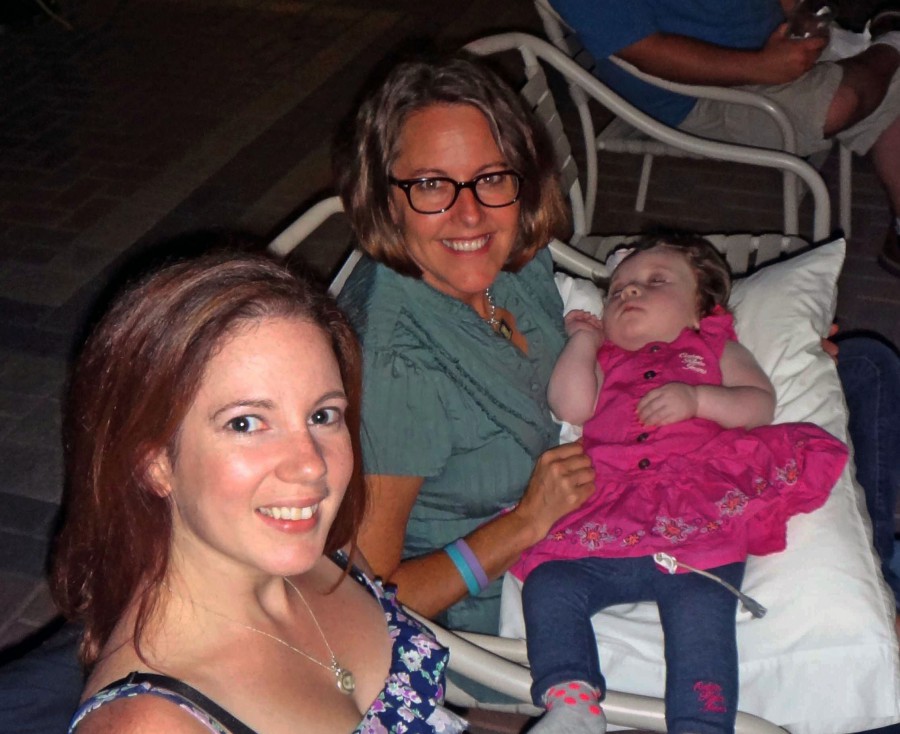 A window of opportunity had opened, so I tentatively asked, "Can I hold her?"
"Well, you can sure try, but she doesn't always take well to strangers," Amanda cautioned. This is a phrase commonly expressed by moms of infants or toddlers when someone asks to hold their baby, but in this circumstance, it was unusual.
It was the summer of 2012 and I was asking to hold Lauren Loughheed, Amanda and Stephen's 18-month-old daughter who had been diagnosed with Krabbe disease just prior to turning one. Most children with an infantile form of Krabbe often lose their voice by the time they're one and a half, so it was markedly unique for Lauren to still be expressing herself through cries and screams. Her voice was extraordinary.
Since her parents were willing to let me try, I was up for the challenge of welcoming little Lauren into my embrace, hoping to not set off an appeal for mom and dad. Amanda placed a pillow on my legs and then gently positioned Lauren in my arms. Fortunately, in no time, without even the slightest protest, Lauren contentedly settled on my lap.
"She seems really happy with you, Christina!" Amanda declared. I beamed with delight and maybe a tinge of pride over the idea that sweet Lauren had taken to me.
And then, soon thereafter, I heard it for the first time—I heard Lauren sigh. And then she sighed again. And again. Lauren had these deep, penetrating sighs that were like a song of beauty and calm that danced in my ears and captured my heart. I was mesmerized.
Over the next few years, as we've grown closer with the Loughheed family, I've been afforded various opportunities to spend time with Lauren; although her voice quieted over time, her sighs remained robust and wonderful. I found myself yearning for her song of sighs. Sometimes I listened through my tears, so taken by her beauty in brokenness.
Last week, on April 13th, Lauren passed away; her sighs on earth were silenced.  But as I lay in bed that night, utterly heartbroken for and with Amanda and Stephen, I could hear Lauren's sighs racing through my mind and heart. I could hear her song…
LAUREN'S SONG
(A Tribute to Lauren Olivia Loughheed)
It was like music.
Her heart-shaped lips slightly parted,
Her shoulders gently lifted and fell,
While the sweetest sounds of bliss
Floated delicately into the air.
Lauren's sighs.
They touched my ears
Like a sublime melody,
A carol of peace arising.
Her body an instrument of grace
In contentment.
As this delicate, fragile, refined beauty
Sighed a ballad of serenity,
Her enchanting psalm
Captured my soul.
Moved me.
I craved her chorus.
Lauren's songs of sighs
Were a heavenly whisper,
Thinning the veil
Between the present
And eternity.
Sighs of fulfillment.
Yet now our hearts sigh
In sorrow.
In longing.
In loss.
A choir of lament.
But Hark!
A harmony of Lauren's sighs yet soar.
Can you hear her new song?
Pure perfection
Exhaling glory.
Sighs of hope ascend.
 You are dearly loved and missed, Lauren!
A tribute video for Lauren by Theresa Sweeney…
*Words of sympathy and love for Amanda and Stephen
are welcome in the comments section below.