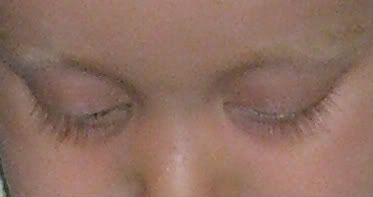 Jessie happened to be crying when she woke up from her nap today, which is uncommon for her, so I got her out of the crib and laid with her on the lower mattress of the bunk bed. As she snuggled into the crook of my arm and closed her eyes, I looked over at her sweet face and upon seeing her eyelashes, the floodgates of sorrow burst open.
Almost every other time I've snuggled on that bed with a child, my gaze settled on soft blonde lashes.
Jessie's lashes are strikingly dark – a stark contrast from those that belonged to her brother. I regularly admire her lashes, but something in this particular moment triggered a contrast that caused the dam of sadness to burst. I felt like I was about to drown in heartache as I gasped for air.
I used to lay in that bed with my ailing "Munchy Munch" and find myself staring at his long light lashes. I would wonder, if he were given the chance to grow older, whether or not they would darken over time. My wild imagination also pictured Jud as a dad to a little girl who might ask him if she could put mascara on his eyelashes. Out of deep love for his daughter, I expected he'd risk the humiliation and happily oblige her, then shower her with "butterfly kisses".
Judson will never be a dad. Nobody will ever put mascara on his lashes. And there's no chance for them to darken over time.
The eyelashes that once beautifully captured my attention and imagination tormented me today.