The last few days of Judson's life he spent in our bean bag chair placed near the door in his room. It had been a piece of furniture privileged to experience the laughter, smiles, and playfulness of our little boy as he would jump, climb, sit, roll, and sing cushioned in its comfort like an enormous pillow.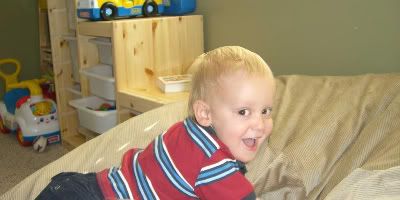 It also proved worthy to provide a place of rest to Jud in the final hours leading to his death; around the clock, loved ones would rotate holding and cuddling his broken, deteriorated, frail frame in the khaki sack. Jud hardly even whimpered in his semi-comatose state as his limp body was placed in the arms of grandparents, aunts, uncles, cousins, and friends who settled into the bean bag for their last chance to connect with our dying boy.
Eventually, it was in this poofy corduroy chair that I held my precious son as he breathed his last breath. It was in this chair that my world stopped. It was in this chair that our family suddenly became incomplete here on earth. But it was also from this chair that Judson escaped his broken body and jumped into the arms of his Savior.
I moved the bean bag chair this week.
I moved the bean bag chair back by the door in Jud's room. I moved it in tears. I moved it as a symbol of remembrance as the anniversary of Judson's death rapidly approaches. I moved it to help me recall how it felt to hold my sweet child for the last time.
I treasure the khaki sack—it hugged and held my boy…
And now it holds me as I mourn.
**WARNING: Some of the following images may be hard to view.**