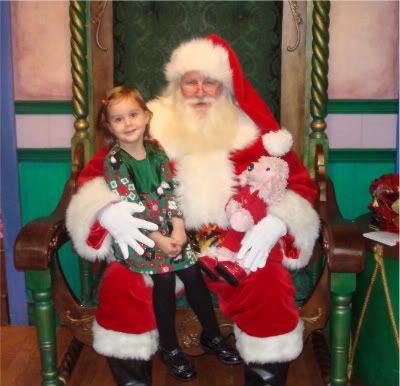 Jessie was a total champ during her visit to see Santa today.
We were the first in line for an exclusive Costa Mesa MOMS Club Santa event at South Coast Plaza and as Jessie was walking the path toward the man in the red suit and spotted his smile she began blowing him kisses. He responded in like.
Upon reaching Chris Cringle, my chatterbox immediately struck up conversation with him about her pink dog Donna, decked out in Jessie's Christmas shirt for her holiday attire, that was being toted around for the festivities. Santa sensitively interrupted to ask, "Would you like to sit on my lap?"
To which she responded, "Sure!"
He pulled Jessie onto his lap, placed Donna on his other knee, and the two of them had a sweet conversation about reindeer, colors, pretend paints for dolls, umbrellas, and other desirable toys.
When their conversation ended, the candy cane gift that jolly ol' St. Nick handed to Jessie surely sealed her love for the white-bearded man.
And the hug they later shared was proof!