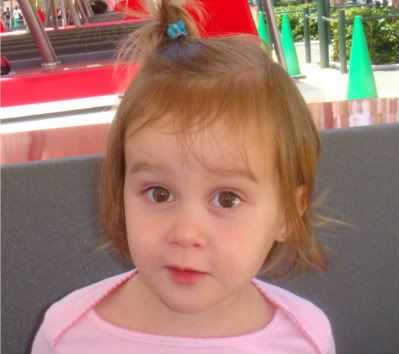 Here's another round of Jessie-isms:
1) Jessie walks into our untidy, cluttered room and states emphatically, "You really need to clean up this mess, mommy!"
2) "Are you such a little miracle?" I rhetorically inquire, trying to inform her of what a gift she is to me.
"No, I'm a BIG miracle!" she says to correct my misinformed ideas.
3) Jessie was in her bathroom using the potty when I went and grabbed a new roll of toilet paper, replacing the old. "It's just not as fluffy as the toilet paper in your room. Why isn't it as fluffy? I like the fluffy kind," Jessie declared, referencing the fact that I purchased cheap TP this time around.
4) "Here Jess, I've got some blue cheese for you," as I scooped some blue cheese onto her plate.
"Actually, mommy, it's white!"
5) Jessie and I were blowing bubbles outside with a huge bubble wand (thanks Hills!) and Howie came racing out the front door. "Do you think Howie will like the bubbles?" I ask.
"I think he's curious about them." Jessie responded.
*Note: I have posted new pictures of Jessie on the right side of her blog.