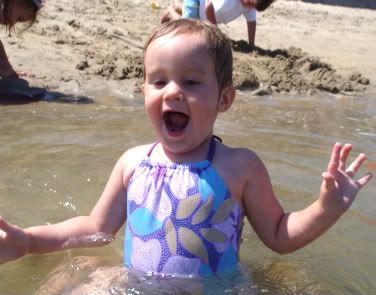 Here are some recent Jessie-isms:
1) While eating peas at dinner, out of the blue Jessie declared, "Peas are like balls!"
2) After I put Jessie down for a nap, I could hear her on the monitor saying, "Obey Minnie. You need to obey," to her stuffed Minnie Mouse that she had taken to bed with her.
3) While we were laughing together a couple days ago, she gave me a mischievous smile and said, "You're teasing me!"
4) I like to give Jessie "horsey rides" on my leg. I noticed that she's been placing her baby doll on her leg in a similar fashion and moving it up and down while saying, "Horsey ride! Horsey ride!"
5) Jessie has been periodically singing "Alligator" around our home. This is a song that Jud made up and would sing regularly to Jessie, requesting that she try to sing it too (when she was less than 8 months old). We captured one of these moments on video, and since watching it, Jessie has regularly been singing the song "Alligator" without ever getting any prompting from us. Her brother must be so proud (as are we)!