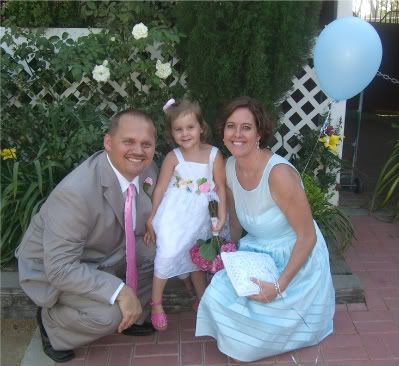 Dear family and friends…
This weekend was full of excitement as Sarah and Dean, our dear friends, committed their lives to one another on Sunday, July 26. It had to be one of the most beautiful, intentional, God-honoring, thoughtful, creative, and meaningful weddings I have ever enjoyed! And we were honored to have our whole family take part, Jud included.
For those who are unaware, when Judson became ill and I began to need assistance caring for both kids as his needs increased, Sarah committed to help me as a daily caregiver. She sacrificed her heart and risked by deeply loving our dying boy, providing him the best possible last few months of life. Jud would light up in Sarah's presence and thoroughly enjoyed the games they would play together, even as his abilities decreased. Through this journey she has become family to us.
Sarah began to date Dean during the season of Judson's illness and we quickly grew to love and respect him too. Dean is such an honorable man and we feel blessed to have him in our lives as well. For almost a year now, we have been getting together with the two of them once a week for dinner and are grateful to be closely walking through the ups and downs of life together.
That being said, it was truly a gift when they asked the two of us to stand with them in their wedding, along with inviting Jessie to be a flower girl. But what surprised and touched us even more was this note: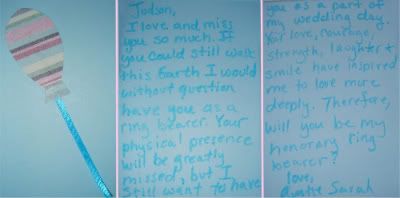 Judson, I love and miss you so much. If you could still walk this earth I would without question have you as a ring bearer. Your physical presence will be greatly missed, but I still want to have you as part of my wedding day. Your love, courage, strength, laughter, and smile have inspired me to love more deeply. Therefore, will you be my honorary ring bearer? Love, Auntie Sarah
I don't think I can begin to describe the emotion Drake and I felt upon receiving this card, followed by the tremendous gift of actually experiencing their beautiful tribute to Jud on their actual wedding day.
Dean and Sarah tied a blue balloon to the ring bearer pillow as a representation of Judson's presence and wrote the following in their program: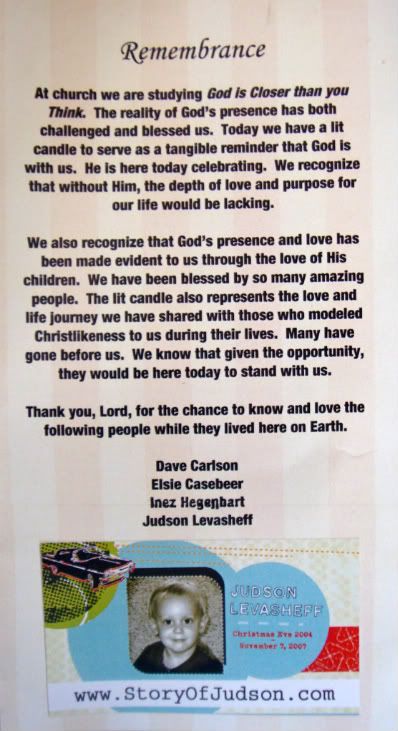 I was overwhelmed as I read these words; my face flooded with tears, representing thousands of emotions that words could never express, including gratitude, joy, and sorrow. This kind of uncommon love reached the depths of our hearts in a way few things can.
We were incredibly honored this weekend by Dean and Sarah's care for our family and also tremendously blessed to witness their love for one another…a significant testimony of God's goodness, faithfulness, and love!
We hope you will rejoice with us in the union of Dean and Sarah!
With love,
Christina (on behalf of Drake too)
P.S. If you would like to express your congratulations to the newlyweds, they will see all comments posted here.
P.P.S. As a tribute to their new marriage, I thought I'd post this "music video" that was shown at their wedding. Enjoy!