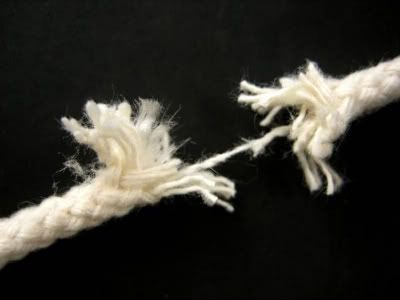 I would describe myself as an emotional wreck the last couple weeks. I feel as though this gnawing sorrow is causing me to fray, like a rope that is falling apart, my grief has worn me thin. My edges are ragged and any little thing can cause my emotions to give way.
My soul is threadbare.
After a day of being frazzled and tattered from lament, feeling as though I have been unable to keep it together recently, Drake brought home a stack of cards with verses given to him by some friends from church. I decided to peruse the stack. This was the first card I read:
The previous verse in that Colossians passage describes how ALL things were created by Him, through Him, and for Him-everything! Therefore, the Lord holds it all together; even my life, my soul, and my world are upheld by Him.
This does not mean I won't be in emotional turmoil. This does not mean I won't be worn thin by my loss. This does not mean that I will never feel like I am falling apart. But it is a promise that God will sustain me and hold all things together, even when I am significantly frayed.
**Thanks Kim and John for the cards!