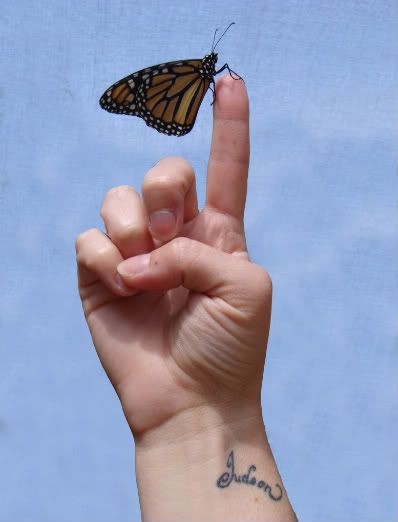 What is it about butterflies that capture my heart unlike any other creature? Is it the intricate beauty? Is it the idea that they have emerged from dark cocoon to new life? Is it that they dance through the air with such grace? Is it their peaceful silence as they fly?
I expect it is all of these things and more.
Every butterfly now reminds me of Jud. For many who have lost a loved one, the butterfly seems to carry a special symbolism tying them to their beloved. I have written many times about butterflies, but in the last couple days I have had two special encounters.
We attended a butterfly release this weekend in honor of families who have lost children. However, unlike the people around us, when we slowly opened our box to free our butterfly, it actually sat on my hand for quite some time before it took flight. It was an amazing experience to have an extended opportunity to hold this beautiful memorial for Judson before seeing it disappear. And as it flew away, Jessie said over and over, "Fly to Jud! Fly to Jud, little butterfly! Fly to Jud!" and I imagined Judson might have been in heaven holding a butterfly similar to the one we'd just released.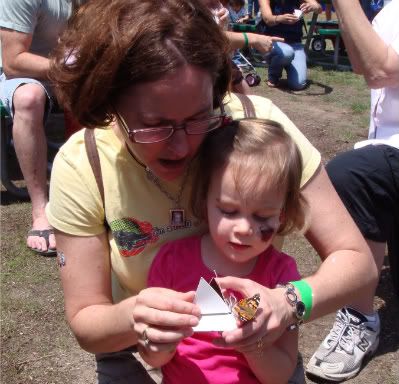 Yesterday morning we took a trip to our local butterfly house and had a similar experience. There was a monarch butterfly that climbed on my finger and then stayed with me the entire time we were there. Strangely, it was almost as though it wanted to be near me. This exhilarating encounter with the "painted lady" actually inspired the following poem from me.

Vibrant colors gleam with light
Dancing upon the sky
Silently fluttering into sight
Capturing my eye
Mesmerized by beauty true
In silence and in awe
I watch with only thoughts of you
Vulnerable and raw
The butterfly a sweet reflection
Of marvelous rebirth
Like the little boy with my affection
No longer bound by earth
My heart sees you in everything
But nothing greater yet
Than the creature with the painted wing
Like a floating silhouette