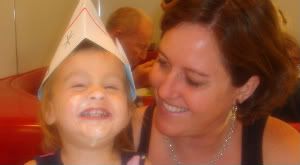 Jessie turned 2 years old yesterday, and even after a trip to Disneyland, I believe the highlight of her day was the ice cream sundae at Ruby's Diner—her first sundae ever!
She has continued to replay how "the people sang 'Happy Bert-day' at the rest-aunt" and gave her ice cream. It is very cute! But what surprised us even more today was when she declared in the car, "I eat like pig!" followed by many chuckles.
It turns out, she had put her head into the sundae like a trough yesterday, and I declared, "Oh my! She's eating like a pig!" and then laughed. She didn't respond at the time, but had obviously tucked that one away to pull out later for a good laugh. She got it—Drake and I laughed hysterically for quite a few minutes.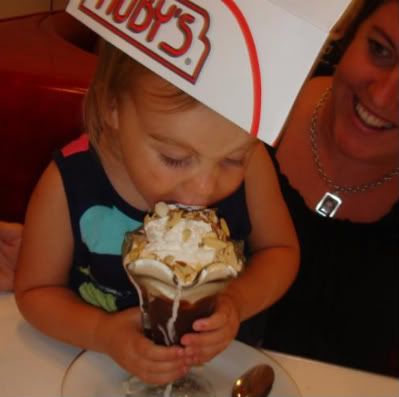 Just goes to show…kiddos are always listening!!!
Happy Birthday, Jessie Girl!! We love you more than you can even imagine, "Our Sweet Little Piggy"!!!!!!!!!!!