We were sent a poem yesterday called "Awkward Silence" by Richard Dew* that states:
That he be forgotten is what I fear,
That no one will ever his presence miss,
As if there were no trace he was here.
By referring to him, my purpose is,
Not to stir pity or keep things the same.
But my heart will simply break if his…
Memory will die like a flickering flame.

I have come to realize that the predominant fear of almost any parent who has lost a child is that your precious one be forgotten by others.
Which is why the gift Drake/we were given today by his colleagues at Vanguard University is particularly poignant, touching us deeply. The people who work in the Enrollment Services Center and others across campus were donning button badges today that read "I'm a Bud of Jud the Stud" in honor of the one year homegoing of our boy.
How could a grieving parent not burst into tears at such a loving, thoughtful, apt gesture?!!? What an incredible gift!
*Thank you Helcels for your card with clippings of encouragement!
**Thank you Jessica and Enrollment Management for your love and support! And thank you Tawny for designing the button—what a blessing!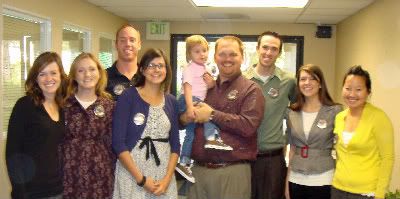 A handful of Jud's Buds at Vanguard.