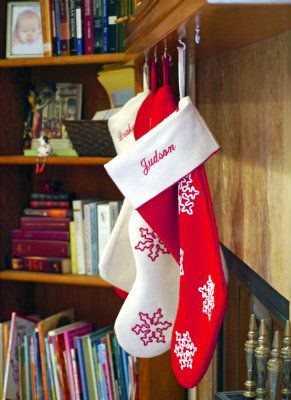 The other night as I was tucking Jessie in bed, she expressed a desire to specifically pray for Judson and proceeded to pour out her heart to God on behalf of her brother.
Dear Lord… I pray that Jud could have lots of fun in heaven and that he could get many kisses from you under the mistletoe.  Please give him four kisses from me and one hug.  Please let him have a wonderful birthday in heaven.  I also pray that he could have a really big stocking for Christmas and that it would be filled with at least four toys.  I hope he gets everything that he really wants and that Santa brings all the kids in heaven what they ask for.  Please let him know that I miss him.  Amen.
As I heard her pray, her precious heart attempting to make sense of Judson's life in heaven, my heart melted at her longing for her brother to experience all the joys she has here on earth.  But what stood out to me even more was how much she recognizes Judson is alive.
Her childlike understanding of heaven may have theological gaps and errors but it beautifully expresses so much truth.  Judson is vibrant and whole.  He is embraced and completely loved by God, face-to-face with his Savior.  He is able to experience the joys of life, like those on earth, yet in all the richness for which our souls can only long.   Moreover, we can continue to engage relationship with him, through Jesus, in anticipation of our reunion.
Judson's stocking here on earth may remain empty this season, but his life in heaven is completely full.
Author: Christina