Sometimes, with certain experiences in life it is a gift to not fully know what you are getting into until you're actually in it. Otherwise, you might run the other direction.
I had the opportunity to volunteer on Saturday to help with a charity event that provides clothes for impoverished children in honor of a little girl named Brittany who lost her life in 2002. When I discovered the inspiration for the event, I didn't hesitate to take part; I relished the opportunity to honor the memory of a young girl by assisting another little girl, afflicted by poverty, on a shopping spree throughout Walmart to purchase much-need clothes and shoes.
I joined my friends Sarah and Carla on this adventure …but I was not prepared for what followed.
Imagine my surprise when the bus load of children arrived and it was full of girls and boys (up to age 12). Then when they called Sarah's name to meet the child assigned to us, she came strolling back with her hand leading a young boy named David. And, in fact, David was 4 years old, the same age Jud would be were he alive.
I paused and took a deep sigh while my mind scrambled to figure out how to engage the circumstance while a whole host of emotions had just erupted in my soul. Lean into it, I thought to myself.
So I walked over to David, placed my hand on the small of his back, bent down and asked, "Do you like Lightning McQueen?"
"No!" he curtly replied.
His harsh reply disarmed me, and strangely felt like a knife to my heart. "Oh!? What do you like?"
David was quiet. And I became quiet too.
As we proceeded to traverse the aisles of the boys section in the store, holding up various clothing items to inquire as to whether or not he was interested, it quickly became apparent that David had numerous needs that far outweighed his external need for clothing. Things he said and did were clearly indicative of internal disturbance.
I felt powerless and broken as I watched him do and say some very disconcerting things, while my feelings were also all tangled up with thoughts of Jud. My mind was racing.
Meanwhile, Sarah asked David to take off his sweatshirt so he could try on a long-sleeve knit to determine his size. As he raised his arms, lifting his camouflage fleece, I dropped my head in disbelief. David was wearing one of Judson's shirts – a shirt that had been prominent in Jud's wardrobe.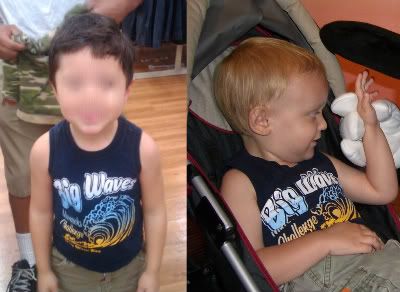 What are you doing, God? I asked myself, ready to crumble to the floor in tears.
Lean in. I heard again.
I can't. I thought to myself as everything in me wanted to high-tail it out of there.
Love him. Try to love him the way you love Jud.
I can't.
But I tried. I walked over to David as he was kicking and hitting some men that were trying to help him and attempted to offer some guidance. Then I took him over to the shoe section and helped him select a new pair of sneakers. But all the while I was struggling. I was finding it difficult to love David.
After saying goodbye to the little guy, we were informed that his dad just died two weeks ago. My heart sank.
David has since been perpetually on my mind and I keep asking, What were you doing, God?
I think I hear my Heavenly Father saying…
I have as much compassion for David and other deeply broken and hard-to-love people as I do Judson, and I need you to be my hands and feet.
Oh God, please grow your compassion in me.