Today, June 13th, marks three years since I took Judson to our local medical center with concerns for his health; the words from the doctor still ring in my ears, "This is likely very serious. We need to do an emergency MRI."
And from that moment our lives were to be horrifically changed forever…because of Krabbe disease.
I hate Krabbe disease. I hate it with every ounce of my being. I hate what it did to my little boy. I hate what it does to other children. I hate how it slowly sucks every bit of bodily life out of a child while all who love them are tormented as they must powerlessly watch. And I hate how it leads to a bottomless well of pain.
As I see it, Krabbe disease is right out of the pit of hell; it is so evil, wretched, heinous, wicked, and dreadful. It intimately reminds me that the enemy prowls around like a roaring lion seeking to devour and destroy (1 Peter 5:8) and he would delight in seeing Krabbe disease demolish families, faith, and hope.
But in actuality, experiencing the evil of Krabbe disease has caused me to hold more tightly to the One who is good, to the God who loves and cares for me. Although it has been three years since that horribly fateful day, and my life has since been lived in a sea of pain, I am reminded that this suffering is but for a little while (though it doesn't usually feel like it) and some day, the God of all grace will call me into eternal glory, just as he did my Judson, and the Lord himself will restore me (1 Peter 5:10). But until that glorious moment, I am resolved to hate what is evil and cling to what is good .
Thus, I hate Krabbe disease, but I cling to God!
WARNING: THIS VIDEO IS HEART-WRENCHING

This is some uncut, raw footage of Jud, just 10 days before he died (keep in mind he was running in our park just 6 months prior). It is incredibly difficult to watch but it shows the heinousness of Krabbe. You can observe how Judson's mind is intact as he responds to my voice, but he is unable to see, speak or move.
Do you hate Krabbe disease too? Please help us raise awareness of this wretched disease!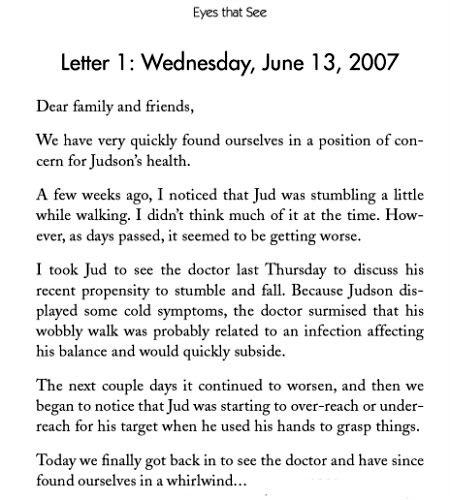 *This post is dedicated to all the families I know who have lost children and grandchildren to Krabbe disease.