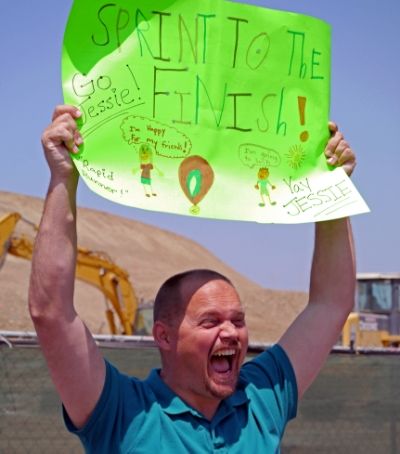 This last weekend Jessie participated in The OC Kids Run in conjunction with the Orange County Marathon.  Students from her school have been training for the run these last couple months, jogging a couple times a week to equal approximately 25 miles.  They then complete their "marathon" by running the 26th mile in a timed competition.
Jessie did great and we were very proud of her, but something else stood out to us as we watched her race. Twice on the course we had the chance to root her on as she ran past.  Both times she was in a slow jog, her passion for the run slowly fading as she showed signs of weariness.  But when she heard our cheering voices, and caught a glimpse of us enthusiastically applauding her efforts, a smile swept across her face as she exploded with speed and power, running rapidly toward the finish; seeing our support infused her with fresh strength, energy, and zeal to keep going.
It reminded us how much we all need people cheering us on, encouraging us to keep going when we're weary, losing focus, feeling defeated, or we're tempted to give up.  Especially when facing hardship and pain everything can look bleak, but having people who believe in us standing on the sidelines expressing their support, infuses us with renewed strength and heartens us to keep going.
Who in your life might need you to cheer them on today?
Author: Christina