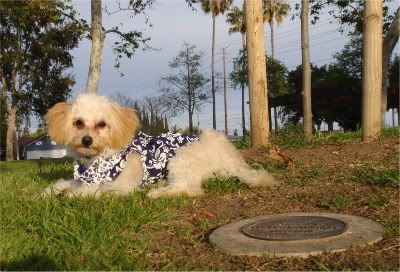 When we had first talked about getting a dog, Judson wasn't even a year old and Jessie had yet to be conceived. We had a cat at the time, but Drake and I had noted how it could be especially great for our boy to grow up with a canine pal. I specifically recall mentioning the movie My Dog Skip and how I could imagine Jud as a budding boy with a loyal pooch trailing behind his every move, much like the terrier in that film.
It is a picture that has stuck with me.
Ironically, it was Judson's death and our coming to grips with the reality that Jessie will likely grow up without any other siblings that catapulted us into seriously considering dog adoption sooner rather than later.
With the passing of time we recently began to feel more and more equipped to add another dynamic to our daily life, but a week and a half ago when we invited "Howard Fritz Levasheff" to join our family I was blind-sided by the grief that would strike because of our new pup.
"Howie" and Jessie instantly connected; however, his presence has made me glaringly aware of the gap Jessie has had without her brother. Having the company of a dog has made it clear how much she enjoys having a buddy. Our ladybug is constantly conversing with the puppy and wanting to include him in everything she does. When we are not at home, instead of talking with him, Jess is jabbering on about him and all the things she likes to do with her doggie. When I watch our "Sweet Pie" and "Howie" together, it reminds me so much of the picture I had envisioned of Judson with his little mutt.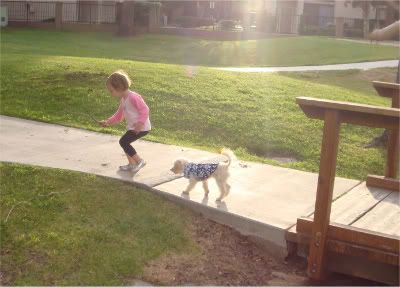 Instead, we are taking daily jaunts with the dog to the park, where he is racing around Judson's tree, chewing on sticks near his memorial plaque, and resting on the nearby grass rather than playing with the boy who had first inspired the desire for his presence.
Watching Jessie with her pal has been everything we one could have hoped for when committing to add a dog to the family, but as incredibly sweet as it is, it has also been deeply heart-wrenching too.